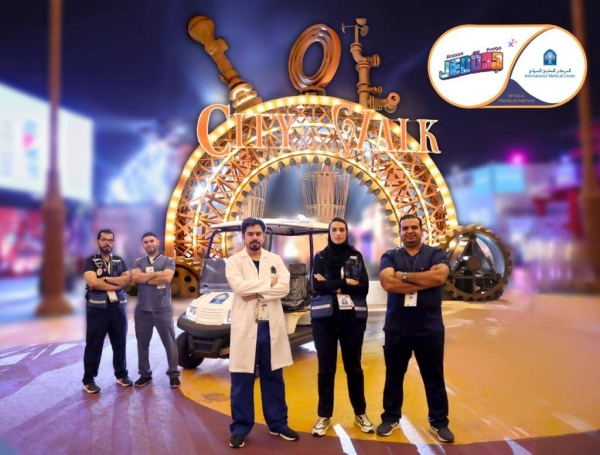 IMC: Premium medical sponsor for Jeddah Season 2022
The International Medical Center IMC in Jeddah announced its selection to be the medical sponsor (premium) for Jeddah Season 2022 and under this sponsorship, the IMC, through its medical, nursing and technical support teams, assumed the task of providing emergency medical and emergency services to visitors and participants in the activities of the season, which began on the first days Eid Al-Fitr under the slogan (Our good days are coming).
In a statement on this occasion, Dr. Walid Fitaihi, Chairman and CEO of the International Medical Center, said: "At the International Medical Center, we are pleased to be the official medical sponsor for the 2022 Jeddah Season, which is one of the most important and largest national events in Jeddah, and we are proud of this decision, which confirms the merit and position of the IMC as one of the most important medical edifices in our dear kingdom, in order to provide the best means of medical care and services to our community and to provide all aspects of care for the guests and participants in the Jeddah Season, according to our well-known standards, in order to ensure a safe environment that contributes to the success of the season's activities, God willing."

Regarding the details of the services provided by the International Medical Center to the areas of the Jeddah Season, Dr. Walid Fitaihi said: "Our medical services included the nine areas identified by the Jeddah Season administration to hold events, through medical clinics, ambulances and golf cars to transport the injured, and our medical and nursing team stands ready throughout the day to provide medical care to those in need.

It is worth noting that the Jeddah Season was launched this year in its second edition, and it is considered one of the most important national events that aims to make the city of Jeddah a permanent tourist destination in the region, and this year's season emphasizes Saudi Arabia's leadership in the entertainment industry, enhancing its touristic position and achieving the goals of Vision 2030.

The Season began with 2,800 events, in 9 main areas in Jeddah, and witnessed the establishment of 4 international exhibitions, 7 Arab plays, 2 international plays, 20 Arab concerts and 3 international concerts, in addition to 70 interactive experiences and the global show "Cirque du Soleil".

The season will also witness during the two months dedicated to holding events: 5 marine programs and activities, more than 60 recreational games, and 60 fireworks displays.