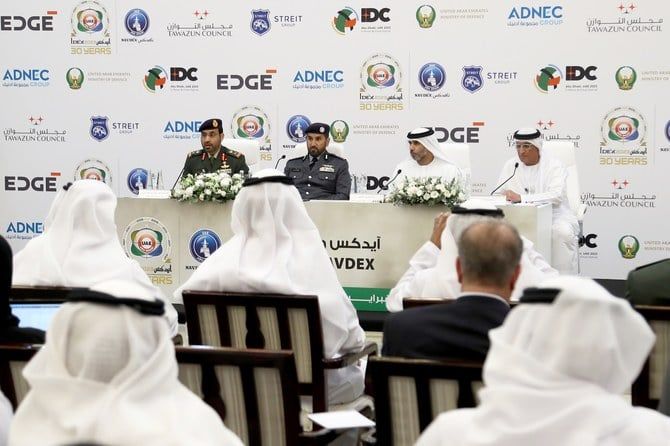 International Defense Conference to begin in Abu Dhabi with 50% surge in company participation
More than 1,300 firms are set to descend on the International Defence Exhibition and Conference being held in Abu Dhabi next week – a 50 percent rise on the number who attended the 2021 event.
The IDEX conference, first held in 1993 and now on its 16th edition, is organized by the Abu Dhabi National Exhibitions Company and the Ministry of Defense and will take place from Feb. 20-24.

"The number of exhibiting companies increased to 1,350 companies, with a growth rate of 50 percent compared to the previous edition in 2021," said the managing director and CEO of ADNEC Group, Humaid Matar Al-Dhaheri, according to a statement.

He added: "The current edition is expected to attract more than 130,000 visitors including VIPs, decision-makers, and specialists from all over the world, with a growth rate of 209 percent over the 2021 edition."

The number of participating countries has increased to reach 65, with a growth rate of 10 percent compared to the 2021 edition and 200 percent compared to the first edition of the event.

Together, ADNEC and the Ministry of Defense are also organizing the launch of the 7th edition of the Naval Defense Exhibition which is taking place during the same time frame.

"The Ministry of Defense's support for IDEX and NAVDEX is part of the UAE's efforts to keep up with the developments of the Fourth Industrial Revolution and achieve a knowledge-based economy and sustainable development in various sectors," explained the vice chairman of the Higher Organizing Committee, Mubarak Saeed bin Gafan Al-Jabri.

"Over the past 30 years, IDEX and NAVDEX have witnessed a remarkable development in the number of local and international participants as well as an accelerated growth in the volume of announced deals," Al-Jabri added.

Both IDEX and NAVDEX aim to offer a global platform through which the latest innovations in international defense are showcased and discussed.

In addition to this, the conference and exhibition opens the door for potential opportunities and strategic collaborations with major global firms that are specialized in the defense and military industries.