Faith and community leaders in the UK have united in grief with Israel after at least 45 people were killed in a crush at a crowded religious festival.
The chief rabbi led tributes after the disaster at the Lag B'Omer celebration in the north-east of Israel.

The Queen and PM Boris Johnson also sent condolences following the "devastating scenes" at the annual event, which left some 150 injured.

Prayers will be said in at synagogues for the bereaved and the injured.

Chief Rabbi Ephraim Mirvis said: "As we struggle to come to terms with the horrific scenes of tragedy in Meron, the worst peacetime loss of life in Israel's history, this is a moment to unite in grief and prayer.

"May the memory of those lost to us forever be a blessing and may the injured be granted a refuah shelemah (a speedy recovery)."

The Queen sent a message to Israeli President Reuven Rivlin saying she was "deeply saddened", adding: "My thoughts are with those who have been injured and the friends and families of those who have lost their lives. They have my deepest sympathy."

Tens of thousands of Orthodox Jews had attended the all-night festival, making it the largest event in Israel since the coronavirus pandemic began.

Emergency officials said a crush had occurred at around 01:00 local time (22:00 GMT Thursday). It reportedly started after some attendees slipped on steps, causing dozens more to fall.

Israeli Prime Minister Benjamin Netanyahu, who has travelled to the scene, said Sunday would be a day of national mourning.

Michael Goldstein, president of the United Synagogue - a union of British Orthodox Jewish synagogues - said the news from Israel was "devastating".

"We are heartbroken that a night of celebration could so quickly turn to a day of mourning. We share the pain of all the families who have lost a loved one," he said.

'The saddest of days'

Many people in the UK are already contacting organisations offering help and support.

Magen David Adom UK - a British body set up to assist Israel's national medical emergency, disaster, ambulance and blood service Magen David Adom (MDA) - said it was already receiving calls and donations from the community.

Chief executive Daniel Burger said: "Throughout the night we have received updates from our colleagues in Israel, each more devastating than the one before. The horrific events at the Lag B'Omer celebrations in Meron have turned what should have been the happiest of nights into what will be the saddest of days."

He also called for blood donations from any Britons in Israel.

"The immediate concern is the blood supply in Israel," he said. "MDA has put out an urgent request and we would urge any Brits on Gap Years or other programmes to go to their nearest blood donation centre and give blood."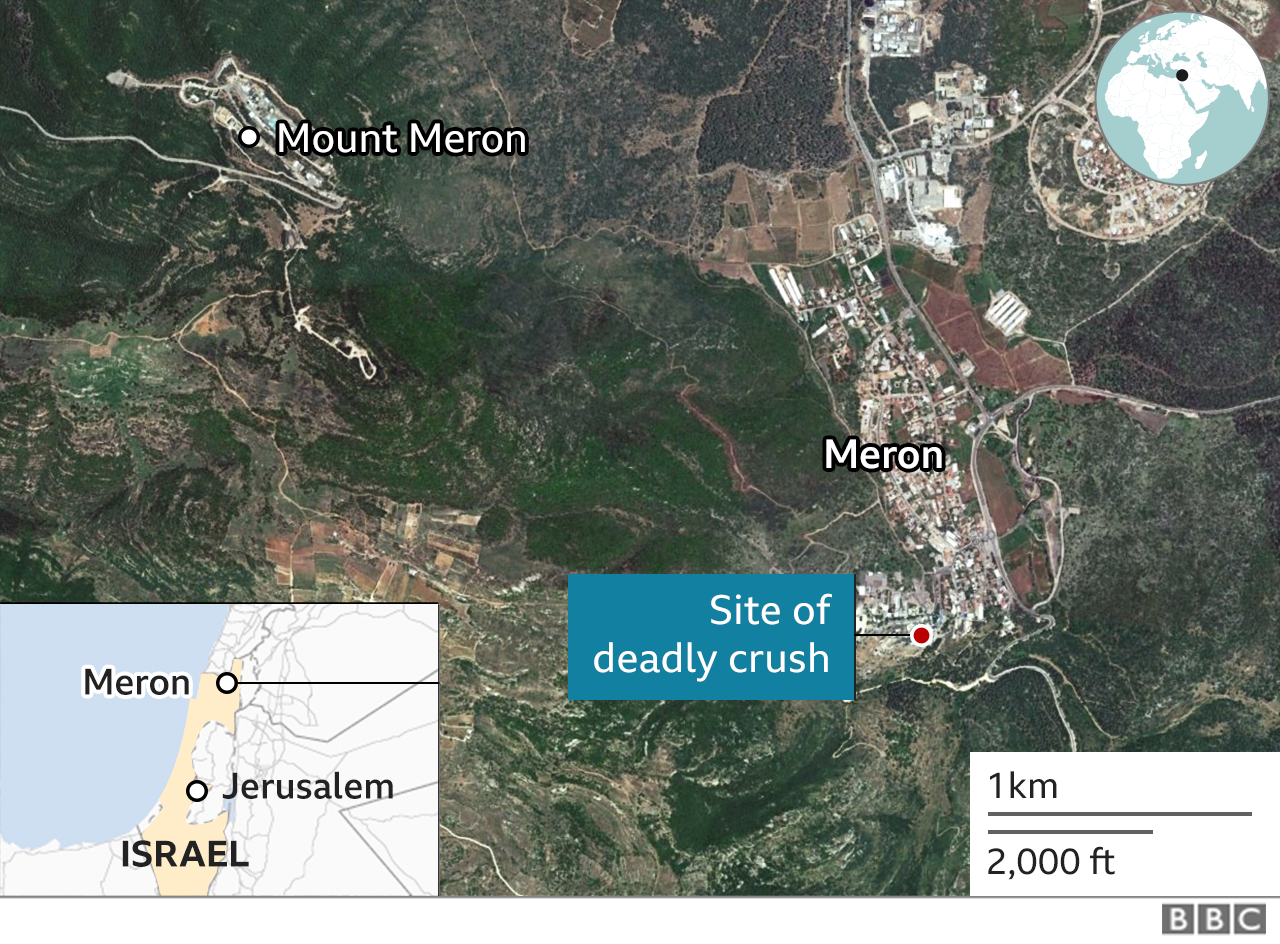 The Board of Deputies of British Jews said a day intended for celebration would now be linked to mourning for the loved ones of those affected.


Marie van der Zyl, president of the organisation, said: "We are devastated at the news that a celebration for the festival of Lag B'Omer has led to such a tragic loss of life.

"Lag B'Omer traditionally celebrates the cessation of death of religious students from a terrible plague in Roman times. It is a bitter irony that the day will now become partly known as a day of mourning for the families affected."

Rabbi Celia Surget, chair of the Assembly of Reform Rabbi and Cantors, said she was "devastated" over the loss of life and sent wishes for healing for all those involved.

'Terrible disaster'

Boris Johnson said on Twitter: "Devastating scenes at the Lag B'Omer festival in Israel. My thoughts are with the Israeli people and those who have lost loved ones in this tragedy."

Others paying tribute included Archbishop of Canterbury Justin Welby and UK ambassador to Israel, Neil Wigan.

Israeli ambassador to the UK, Tzipi Hotovely, said she sent "condolences to the families of the deceased and my prayers to the wounded".

"Let us pray for our Jewish brothers and sisters at this time of great grief," she added. "May the memory of those lost be a blessing."