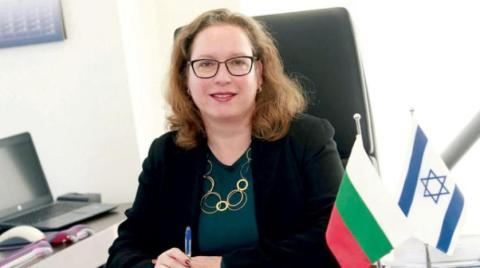 Israel Wants Türkiye to Shut Down 'Hamas' Office
The Israeli charge d'affaires in Türkiye said on Friday the re-appointment of an ambassador to Ankara could happen within weeks, while repeating Israel's expectation that the Hamas office in Istanbul be closed down.
Lillian said the process of re-appointing an ambassador to Türkiye was only a matter of "when and not if."

Lillian reiterated the challenges to the ties, saying that the biggest obstacle to the "positive tendency seen throughout the year" was the existence of a Hamas office in Istanbul.

"There are plenty of challenges, but from our point of view, one of the main obstacles is the Hamas office in Istanbul," she said.

"Hamas is a terrorist organization, and it is no secret that Israel expects Türkiye to close this office and send the activists there away from here," Lillian added.

"It's only because of elections in Israel that things might be delayed on the Israeli side," Lillian said.

Lillian maintained close ties with President Recep Tayyip Erdogan's office, and especially with his senior advisor İbrahim Kalın, her Turkish counterpart responsible for the reconciliation process, reported Israel's Ynetnews.

Last week, Türkiye and Israel announced that they would reappoint ambassadors, four years after they summoned each other's envoy.

Turkish President Recep Tayyip Erdogan and Israeli Prime Minister Yair Lapid held a phone call earlier this month, expressing their satisfaction with the progress in ties and congratulating each other on the decision to appoint ambassadors.

Prime Minister Yair Lapid's office and the Foreign Ministry don't anticipate any legal obstacles to the appointment of Lillian as ambassador to Türkiye.

Still, the appointment requires legal consultations.

According to reports, Erdogan is also interested in appointing an ambassador before Israel's elections in November. This is partly because of his concern that if Benjamin Netanyahu returns to office, the normalization process could stall.

Israel is concerned that Erdogan could decide to appoint Ufuk Ulutas, who is the head of the Center for Strategic Research at the Ministry of Foreign Affairs, who is perceived as anti-Israel.