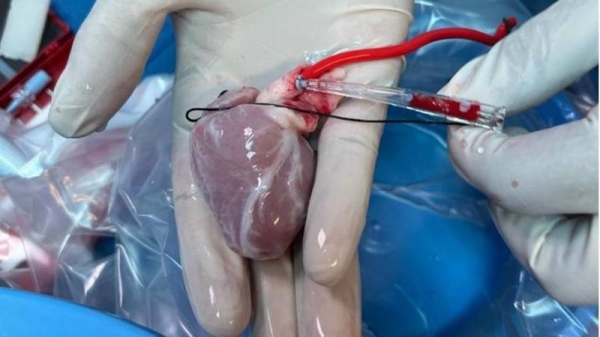 KFSHRC Riyadh succeeds in transplanting heart to youngest patient in Middle East
A pediatric heart surgery team at King Faisal Specialist Hospital and Research Center (KFSHRC) in Riyadh has succeeded in performing a heart transplant for a less than 8-month-old Emirati girl, the youngest patient in the Middle East, in less than 24 hours.
The surgery team was moved to Dubai to conduct a heart removal surgery from a deceased donor in the UAE, and that after completing the coordination and legal procedure and taking approval from the donor's family.

This has been done in cooperation with the Saudi Center for Organ Transplantation (SCOT), the National Program for Organ Donation and Transplantation, Hayat, and the air medical evacuation plane of the Saudi Defense Ministry.

The Emirati child is considered the youngest case to have undergone this surgery. Eleven-month-old girl Ghaim was the previous youngest case that underwent a heart transplant last year 2021. The two surgeries were performed for the two girls in KFSHRC Riyadh.

Moreover, the team has also moved to Makkah to conduct a heart removal surgery from a deceased donor, and went back to Riyadh to transplant the heart to a 19-month-old Saudi girl.

The medical team overcame all logistical challenges, in cooperation with the Saudi Ministry of Defense air medical evacuation.

All operations were carried out within a record time of no more than 24 hours. This came months after the Saudi and Emirati girls were relying on an artificial pump, due to lack of donors.

The cases of the two girls are witnessing continuous improvement after they underwent heart transplant surgery, as they are currently undergoing periodic medical follow-up.

The two cases were in a critical condition before the transplant surgery, as a result of severe heart failure. The girls were back then placed in intensive care waiting for the availability of heart donors.

This kind of surgeries require highly experienced human cadres, and an advanced medical infrastructure, which is available in KFSHRC.

This, alongside the readiness of qualitative logistical support that facilitates the movement of the medical team in record time that have been offered by the air medical evacuation plane, has played a pivotal role to accomplish this kind of surgeries.

It is noteworthy that the heart transplantation program for children and adults at KFSHRC is the largest in the Middle East, and is distinguished by having achieved results similar to the results of heart transplantation achieved globally.

The total number of heart transplant surgeries conducted at the KFSHRC, reached more than 431 heart transplants since the establishment of the program in 1989.