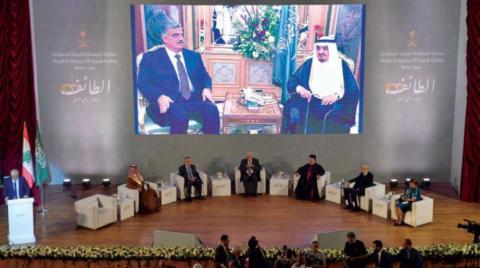 Lebanese Officials Renew Commitment to Taif Accord on 33rd Anniversary of its Signing
The Saudi embassy in Lebanon organized on Saturday a conference to mark the 33rd anniversary of the signing of the Taif Accord that helped end the 1975-90 Lebanese civil war.
Signed in 1989, the agreement, which was sponsored by Saudi Arabia, helped consolidate mutual coexistence in Lebanon and preserve its Lebanese and Arab identity.

At Saturday's conference, officials called for completing the implementation of the accord in wake of the crises rocking Lebanon, which is mired in presidential and government vacuum and grappling with an unprecedented economic meltdown.

Top politicians and diplomats and religious figures attended the conference that was held at the UNESCO palace in Beirut.

Saudi Ambassador to Lebanon Waleed Bukhari stressed that the Taif Accord "reflects the Kingdom's keenness on Lebanon, its security, unity, stability and national pact."

Caretaker Prime Minister Najib Mikati said the accord is "extremely important because it helped end the civil war."

"The Kingdom has not abandoned Lebanon and it stands by it," he declared.

Moreover, he noted that the major turnout of officials at the conference demonstrates that the accord "is still the best suited for Lebanon."

Former Prime Minister Fouad Siniora said: "Experience has shown that Lebanon must operate according to sustainable balance that achieves stability."

"There can be no sectarian solution" to problems, "rather there is only one whereby either Lebanon rises with the help of all of its components or not at all," he added.

"Good intentions are the foundations for any initiative or solution," he stated, stressing that the priority in Lebanon today lies in the election of a president who "believes in the Taif Accord" and is keen on its complete implementation.

Head of the Progressive Socialist Party Walid Jumblatt said that before discussions can be held over amending the Taif, the accord must at least be implemented in full.

That will in turn eliminate political sectarianism, as stipulated in the accord, he explained.

Furthermore, he called for carrying out other reforms that were underlined in the accord. These issues should be discussed "away from sectarian tensions that are seeking to hamper the election of a president."

Speaking on behalf of Maronite Patriarch Beshara al-Rai, Archbishop Boulos Matar said: "Christians and Muslims are united under one nation according to the Taif agreement."

"We are brothers in the nation, Arabism and humanity," he added.