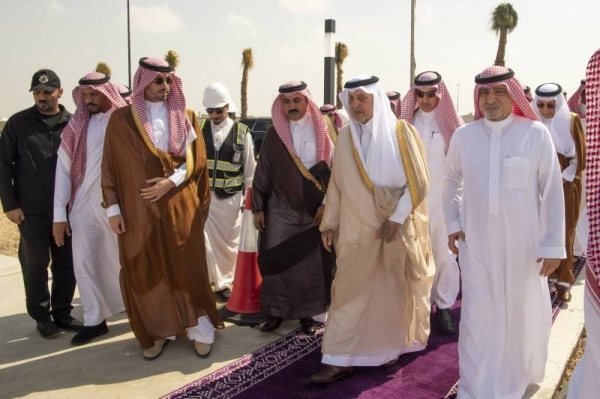 Makkah Emir inspects Jeddah waterfront projects
Prince Khaled Al-Faisal, emir of Makkah, and advisor to Custodian of the Two Holy Mosques inspected on Wednesday the Obhur waterfront development projects, which are estimated to cost at SR3.5 billion.
The inspection tour was made during his visit to the headquarters of the Obhur Municipality under the Jeddah Mayoralty. Jeddah Governor Prince Saud bin Jalawi also accompanied him during the visit in which he met Mayor of Jeddah Saleh Al-Turki and senior officials of the mayoralty and heads of the branch municipalities.

During the visit, the emir was briefed on the completed projects as well as the projects that are under various phases of implementation. He watched a presentation on the projects being implemented, whose total cost is estimated at SR3.5 billion, and these included 16 rainwater drainage projects, 16 road projects, six humanization projects, a waterfront development project, six projects for buildings and utilities, four projects for lighting, 13 projects for technology, information systems and planning, and seven projects for improving the urban landscape.

Prince Khaled Al-Faisal was briefed on the 38 completed projects in the Jeddah mayoralty with a total value estimated at SR1.3 billion. These included the development of Prince Majed Park; the bridge at the intersection of King Fahd Road with Sari Street; the implementation of a tunnel at the intersection of Madinah Road with Prince Muhammad bin Abdulaziz Street (Tahlia road), and eight projects for rainwater drainage at Al-Salam Tunnel, Globe Square Tunnel at the intersection of King Abdullah Road with Andalus Road, and critical areas close to rainwater drainage networks, the tunnel at the intersection of Prince Majed Street with Hira Street.

The emir also listened to an explanation of the 69 projects being implemented, with an estimated cost of SR3.5 billion, including rainwater drainage, roads, humanization, waterfronts, buildings and utilities, lighting, technology, and information systems. Prince Khaled Al-Faisal was briefed on the efforts of the mayoralty in ending encroachments, stating that the encroachments during the past five years amounted to about 33 million square meters.