Such has been the overwhelming popularity of this year's LEAP 23, a four-day annual tech conference hosted in the Saudi capital Riyadh, that organizers were forced to close the doors to new attendees on Tuesday after the venue reached maximum capacity.
Held at the Riyadh International Convention & Exhibition Center, the event's second edition has seen a massive turnout, as some of the biggest names in the tech world showcase their products and discuss new industry trends.

For two days, students, entrepreneurs and startup owners have braved Riyadh's rush-hour traffic and large crowds to gain admission — a challenge one attendee described as "a logistical nightmare," as more than 250,000 registrations were recorded on the first day alone.

Amal Al-Khalid, 24, traveled from the Eastern Province to take part in one of two contests — the Rocket Fuel competition and Alibaba Cloud hackathon — with a SR6 million ($1.5 million) prize pool aimed at rewarding Saudi-based startups and boosting cloud technologies.

"I came with the intention of checking out the competition with my three colleagues as our startup is focused on providing water treatment solutions for domestic use," she told Arab News on the sidelines of the event.

"Our idea came up as we kept hearing about the problems with the quality at home. I knew it was going to be crowded as many members of our entrepreneurial community spoke of LEAP for months, but I did not expect to see crowds of this kind."

The Rocket Fuel competition, supported by the National Information Technology Development Program and the Misk Foundation, aims to help new businesses, highlight entrepreneurial projects, and build innovative solutions that address technical challenges.
As many as 90 local startups will compete for a chance to be one of 15 awarded a share of SR4 million, with a top prize of almost SR940,000. The event is a great opportunity as far as investments, partnerships and meetings are concerned, to say nothing of connecting with new people in tech from around the world.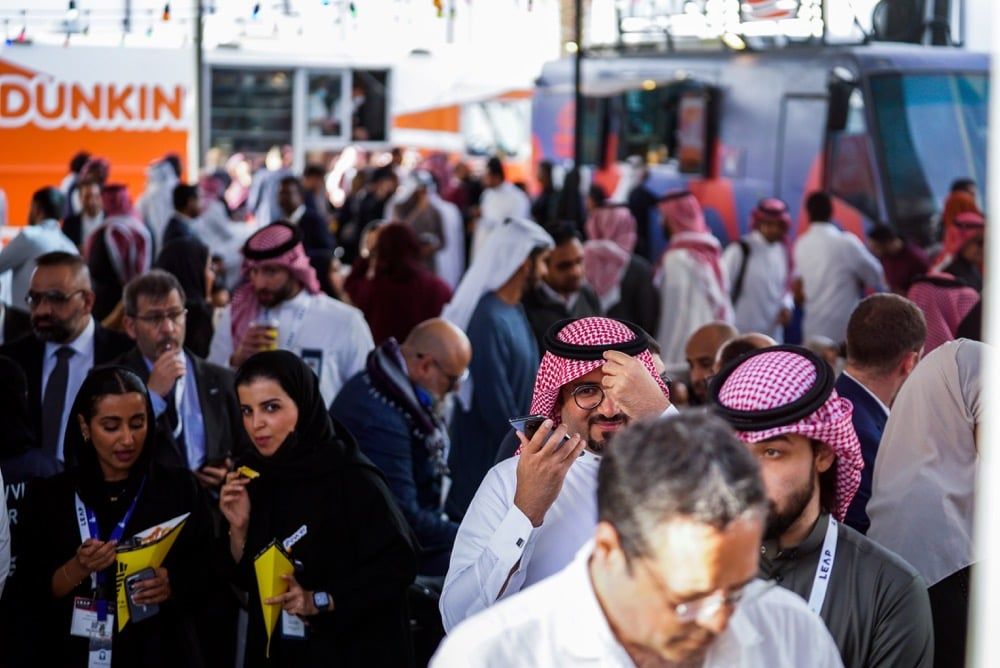 Several young tech entrepreneurs were drawn by the prospect of competing in the contests and the chance to network on the LEAP 23 sidelines. However, the event's enormous popularity appeared to overwhelm the available facilities.
"User journeys were not planned out correctly," Ghaliah Al-Sukait, an experience and planning development manager, told Arab News.
"Only the main pathway had ushers organizing the human traffic. All the other pathways were disorganized and not clear. The distribution of booths did not allow for smooth transitions from one space to the other, but rather created even more traffic.
"Given the huge anticipated footfall, there should have been multiple entrances and exits to the space to allow users to move freely. Instead, there was only one main entrance (for regular tickets) and one main exit at the opposite side, forcing users to walk through the entire space within the traffic.
"The exit was positioned far away from the parking, leading users to walk through the parking after an already long walk through the space. This resulted in increased frustration from users."
Roads to and from the venue were also packed, with attendees spending hours stuck in traffic.
"Having left my house at around 1 p.m., and there was a lot of traffic, it took me over an hour to get there," one visitor from the US told Arab News.
"It was a mess with the traffic. The venue was large. It's at least a 2-3 mile walk because it's so huge and overwhelming, though nice. But there were no legends or maps to tell you where to go. They (the crowd) were just standing there," she added.
LEAP 23 will run until Feb. 9, and features an exhibitor and convention line-up of transformational talent, a product showcase of advanced and generative technology potential, and a celebrity guest list of billionaire entrepreneurs, business magnates, sporting heroes, and musical icons-turned futurists and financiers.
On Monday, the conference announced more than $9 billion in investments to support future technologies, entrepreneurship, and tech startups to enhance the Kingdom's position as the largest digital economy in the Middle East and North Africa region.