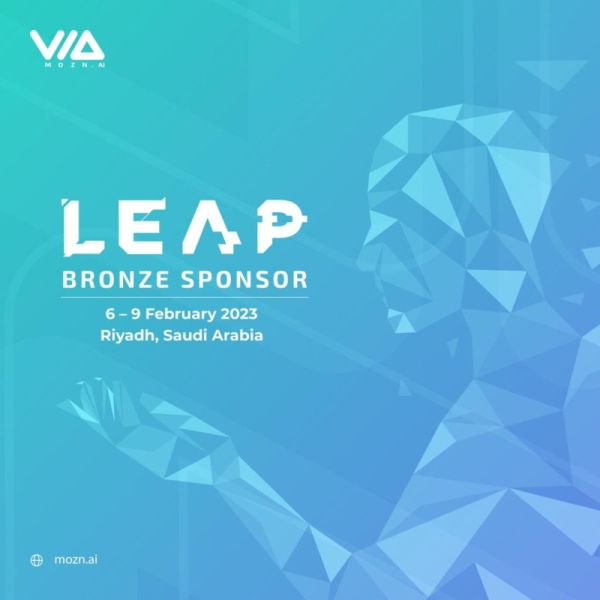 Mozn to showcase its Artificial Intelligence innovations at LEAP 2023
Mozn, a market leader in enterprise AI technologies, today announced that it will participate as a "Bronze Sponsor" in the forthcoming LEAP 2023 Conference – set to take place from 6-9 February at the Riyadh Front Expo Centre in Saudi Arabia.
Currently in its second year, LEAP 2023 is a global, award-winning technology event expected to attract 100,000+ disruptive tech professionals from around the world including entrepreneurs, investors, innovators, and stakeholders. With this year's theme of "Into New Worlds", the four-day conference will explore forward-thinking tactics and showcase cutting-edge technologies for a range of industries, including banking, fintech, capital markets, insurance and more.

During LEAP, Mozn will showcase its myriad of AI-powered offerings including financial intelligence products and solutions to address compliance, natural-language understanding (NLU) and risk challenges for organizations in a multitude of industries.

"We are thrilled to return to LEAP 2023 and demonstrate our innovative AI-powered products and solutions to a global audience of disruptive tech professionals." said Dr. Mohammed Alhussein, Founder & CEO of Mozn. "At Mozn, we are committed to empowering organizations to navigate the digital world through our AI-powered products and solutions combined with the technical expertise and business insight that we bring to our clients – enabling them to solve some of their most pressing challenges."


Comprehensive compliance to fight financial crime.

At LEAP 2023, Mozn will demonstrate the FOCAL suite – a leading AI-Powered financial crime prevention suite that screens individuals and entities and monitors transactions to flag potentially suspicious activities. The FOCAL suite predicts business risk while reducing false positives and automates end-to-end compliance – from customer screening and transaction monitoring to risk scoring and case management with real-time alerts. Armed with these capabilities, FSI institutions can better optimize their operations and protect their perimeters from fraudulent activities.


Simplifying complexities with AI solutions

Mozn's Solutions arm works to empower and enable organizations across the MENA region to make more informed and data-driven decisions through different niche and specialized AI and ML solutions. The company will also showcase to attendees at LEAP 2023 its unique applications of AI-powered Solutions such as its leading-edge Arabic natural-language understanding (NLU) technology, risk intelligence, operational AI/ML and AI centers.

Mozn will exhibit from booth H4.B10 in Hall 4 at LEAP 2022. For more updates, follow us on Twitter and LinkedIn.