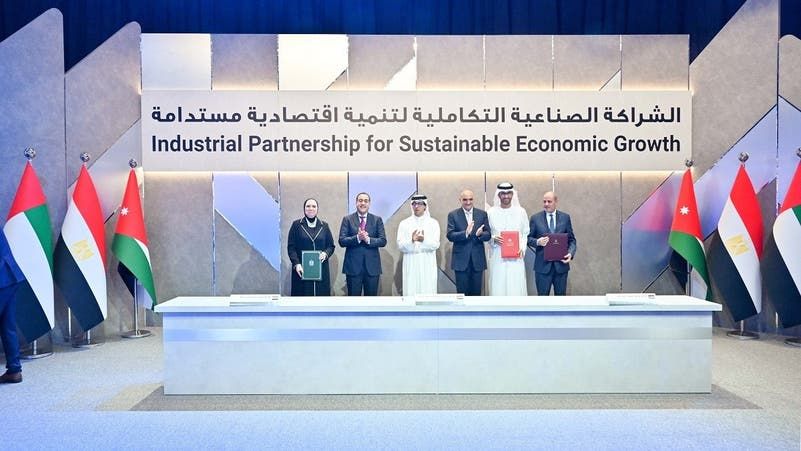 Multi-million-dollar deals to be signed for UAE, Egypt, Jordan, Bahrain projects
Ministers from the UAE, Egypt, Jordan, and Bahrain will meet on Sunday to sign multi-million-dollar agreements for various industrial projects.
The meeting, to take place in the Jordanian capital of Amman, comes under the umbrella of the Higher Committee of the Industrial Partnership for Sustainable Economic Development, state-run Emirates News Agency (WAM) reported on Thursday.

Yousef al-Shamali, Jordan's Minister of Industry, Trade and Supply and Minister of Labor, will head the meeting with ADNOC CEO Dr. Sultan al-Jaber, who is also the UAE Minister of Industry and Advanced Technology and President-Designate for COP28; Ahmed Samir Saleh, Egypt's Minister of Industry and Trade; and Abdulla bin Adel Fakhro, Bahrain's Minister of Industry and Commerce.

"Under the partnership, the member states will collaborate to grow their respective industrial sectors by integrating resources and industries and leveraging competitive advantages," WAM reported.

"The countries will also work together to reduce costs, enhance supply chains, create job opportunities, contribute to economic development, promote self-sufficiency, and boost industrial competitiveness," it added.

The industrial partnership was launched in the UAE capital Abu Dhabi in May 2022 between the UAE, Egypt and Jordan, with Bahrain joining the group in July.

The UAE has set up a $10 billion fund managed by the ADQ holding company, earmarked to be invested in the projects under the partnership.

At least 87 projects have been targeted so far. These projects include petrochemicals, metals, minerals, textiles, pharmaceuticals, and agriculture.

In January, UAE President Sheikh Mohamed bin Zayed Al Nahyan met with the leaders of Oman, Bahrain, Qatar, Jordan and Egypt to discuss relations and deepen cooperation.

The meeting, which was held in Abu Dhabi, aimed to "solidify and deepen cooperation in all fields that serve development, prosperity and stability in the region [via] joint efforts and regional integration," WAM reported at the time.