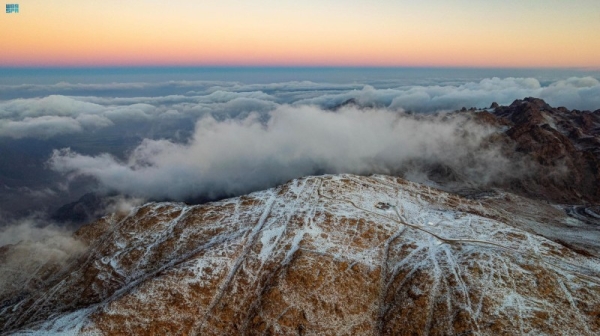 NCM: Weather fluctuations to continue in most regions until Friday
Most regions of the Kingdom are expected to witness weather fluctuations from Monday to Friday.
The fluctuations will be represented by dusty surface winds, rising waves, light rain, snowfall, a drop in temperature, and frost formation, according to a forecast from the National Center of Meteorology (NCM).

The center stated that the speed of surface winds, accompanied by dust, would reach more than 60 km per hour during these days. The winds may result in dust storms with full or low visibility in parts of the regions such as Tabuk, Al-Jouf, the Northern Border region, Hail, Al-Qassim, Eastern Province, and Riyadh, as well as in parts of the regions of Makkah and Madinah. It is expected high waves to hit the coastal parts of these regions, reaching more than two and a half meters.

Light rain accompanied by snowfall, low temperatures, and frost are likely to experience in Tabuk, and Haql in the Tabuk region; Arar and Turaif in the Northern Border region; Qurayyat and Tabarjal in the Al-Jouf region; Qassim, Riyadh, Eastern Province, and northern part of Madinah. Its impact would be felt until Wednesday in the regions of Hail and the Northern Borders region, the center forecast noted.