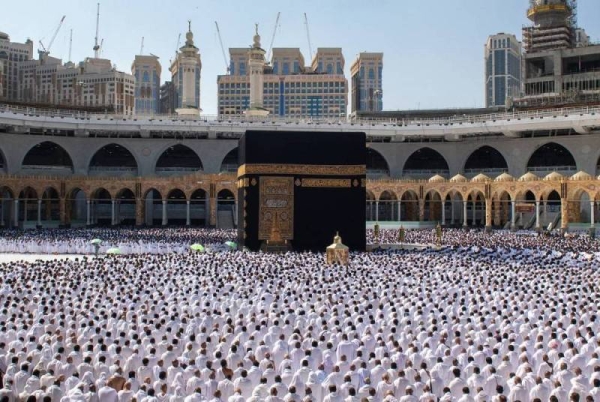 Nearly 5 million Umrah pilgrims arrive in Saudi Arabia
Nearly five million foreign Umrah pilgrims arrived in Saudi Arabia during the current Umrah season.
According to the statistics of the Ministry of Hajj and Umrah, as of Tuesday, Feb. 14, a total of 4,840,764 pilgrims from various countries arrived in the Kingdom through the air, land, and sea ports during the Umrah season this year. Among these pilgrims, 4,258,151 pilgrims left for their countries after performing their rituals while the total number of pilgrims who are present in Saudi Arabia reached 582,613 pilgrims.

The ministry's data showed that a total of 4,329,349 pilgrims arrived through various airports of the Kingdom. A total of 507,430 pilgrims arrived through the land border crossings of Jadeeda Arar, Al-Haditha, Halat Ammar, Al-Wadiah, the Empty Quarter, Al-Batha, Salwa, King Fahd Causeway, Al-Raqi, Durra, and Al-Khafji while another 3985 pilgrims came through the seaports.

The total number of pilgrims who arrived through Prince Muhammad International Airport in Madinah reached 1,351,731 pilgrims or 31 percent of the total arrivals, while 680,017 pilgrims left through the airport, after performing prayers and greeting the Prophet (peace be upon him) and two Caliphs at the Prophet's Mosque. The pilgrims who came through Prince Abdul Mohsen Airport in Yanbu stood at 11,132 pilgrims, the ministry said in its statement.

The current Umrah season started on Muharram 1, 1444, corresponding to July 30, 2022.