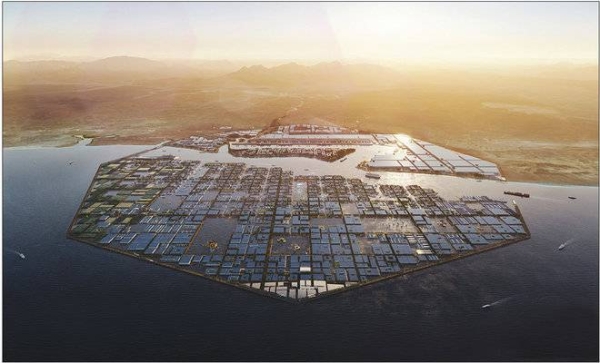 NEOM Green Hydrogen Company awarded first industrial operating license in Oxagon
The Ministry of Industry and Mineral Resources has issued the first industrial operating license for NEOM Green Hydrogen Company (NGHC) — an equal joint venture between NEOM, ACWA Power and Air Products, based in Oxagon.
With its low-cost hydrocarbon resources and strategic location for low-cost renewable energy sources, Saudi Arabia has set out to catalyze the global hydrogen economy by becoming the world's leading hydrogen producer, while maintaining its position as a key player in the energy sector as a whole.

NGHC will be the largest at-scale green hydrogen production company in the world based in Oxagon, home to advanced and clean industries in NEOM, with a next generation port and fully automated and integrated supply chain and logistics network. Furthermore, NGHC is a flagship green hydrogen tenant within the wider renewable energy industrial ecosystem being built at Oxagon.

It is expected that the NGHC plant will start producing green hydrogen from 100% renewable energy sources in 2026, with production of up to 1.2 million tons of green ammonia annually — a figure equivalent to 600 tons of green hydrogen per day.

This green ammonia will be exported to global markets, supporting the decarbonization of the heavy-duty transport sector aimed at reducing carbon dioxide emissions. It is estimated that as a direct impact of the plant, up to 5 million tons of CO2 will be saved per year.

Once the plant at Oxagon is operational in 2026, 100% of the green hydrogen produced by NGHC will be available for global export, in the form of green ammonia, through an exclusive long-term off-take agreement with Air Products.

Leveraging Saudi Arabia's unique wind and solar profiles, this multi-billion-dollar plant, which will be constructed by Air Products as EPC contractor and system integrator, will run on around 4GW of wind and solar energy and produce green hydrogen using 2.2GW electrolysis technology supplied by thyssenkrupp NUCERA.

Haldor Topsoe, will provide the technology to produce the green ammonia, with Baker Hughes as the selected technology partner for hydrogen compression. Air Products will also deploy their own air separation technology.

Recently, the Ministry of Industry and Mineral Resources and the Saudi Authority for Industrial Cities and Technology Zones (Modon) signed a memorandum of understanding with Oxagon to cooperate in the implementation of the Future Factories Program. The initiative aims to build a strong technology ecosystem enabling a sustainable digital transformation of the manufacturing sector in the Kingdom by remodeling 4,000 existing factories.