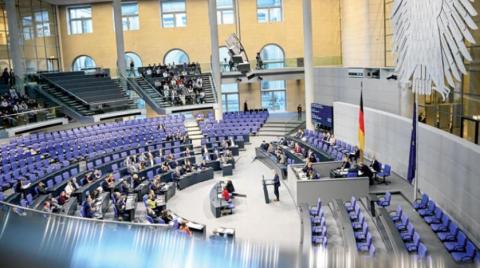 Over 100 German Deputies Sponsor Iranian Political Prisoners
Over one hundred German politicians are sponsoring political prisoners in Iran, as confirmed by a member of the German Bundestag to Asharq Al-Awsat.
MP Kaveh Mansouri, a member of the Social Democratic Party of Iranian origins, told Asharq Al-Awsat that deputies from almost all political parties have joined the movement, including representatives from the opposition Christian Democratic Party, which is repeatedly criticized for its soft policy on Iran.

Mansouri revealed that deputies from other European parliaments, such as Britain, France and Sweden, are communicating with their German counterparts to sponsor Iranian political prisoners as well.

He noted that the pressure exerted on the regime has helped of some prisoners who are sponsored by German politicians.

Mansouri, who was born in Germany to Iranian parents, explained that sponsoring prisoners allows the deputy to follow up on their situation with the Iranian authorities, by addressing letters to the Iranian ambassador, communicating with lawyers, and helping them face what he described as mock trials.

The deputy himself has adopted the case of two prisoners out of more than 18,000 Iranians, who were arrested in connection with the protests that have swept across Iran since the death of Mahsa Amini, according to human rights organizations.

"It is important that we show solidarity with the Iranian victims, and increase pressure on the regime…" he said.

Mansouri is also promoting a stronger German policy towards Iran. Earlier this month, he signed a document, along with 42 other deputies, calling on the government to put the Iranian Revolutionary Guard on the list of terrorism, among other moves.

The socialist deputy underlined the need to adopt other measures to punish those involved in suppressing the protests and arresting and executing demonstrators, pointing out that the next step should be imposing sanctions on the 227 Iranian deputies for their role in supporting the regime's actions.