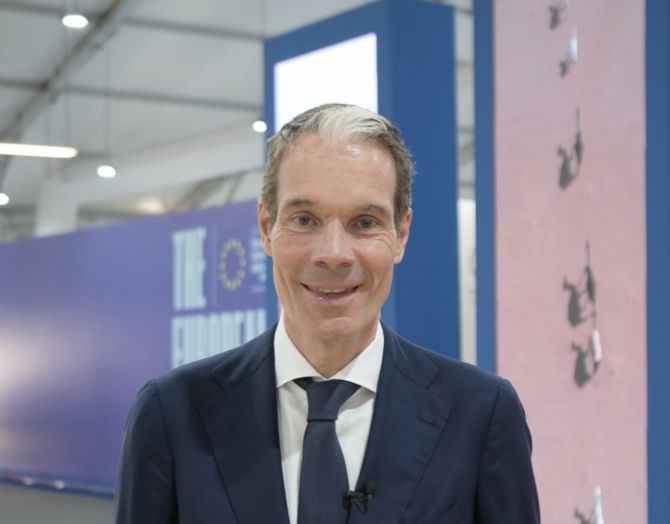 PepsiCo sets climate action goals
PepsiCo is steering towards ensuring its products are net zero and has net water-positive targets, its regional CEO has said.
Eugene Willemsen, CEO for Africa, the Middle East, and South Asia told Arab News on the sidelines of the COP27 that the company had launched its "Pep Positive" initiative to reach sustainability.

The US multinational aims to become net zero and net water-positive by 2040, and reduce virgin plastic use by half on a first serving basis by 2030.

Willemsen said that the company wanted to assist others in reducing water usage, and bring positive change "not just within our own four walls, but across the entire value chain."

Willemsen said that Pep Positive consists of three pillars of the company's climate change strategy — positive agriculture, positive value chain and positive choices.

"We are one of the largest companies when it comes to sourcing crops," he said.

"We work with about 100,000 farmers across the world, and we use about seven million acres of agricultural land. We want to convert that land into regenerative agricultural practices, which means that we're going to protect soil health by rotating crops."

Willemsen said cover crops would ultimately improve soil health, which in turn would improve yields for the farmers.

"We will further reduce water use through state-of-the-art irrigation techniques (that) also have a very positive impact on overall water use in the area where they operate," he said.


Supporting startups

Willemsen said that PepsiCo launched a "Greenhouse Accelerator Program" in the Middle East region last year to provide grants, mentorships and opportunities to boost sustainable technologies.

"There are lots of innovative ideas out there that we want to tap into and we want to work with the startup community to leverage the creativity that is out there," he said.

"We will also support startups, getting businesses off the ground, and hopefully how we can use some of those great ideas to further drive Pep Positive.

Willemsen said that a $100,000 (SR376,000) grant would be awarded to one participant upon completion of the program.

PepsiCo will also soon launch an event in Egypt to tap into the creativity of the startup community, Willemsen said.


Sustainability initiatives

The company last week launched the first recycled plastic bottles, also known as recycled PET, in Pakistan.

"We've now announced, in my division, five markets where we've launched recycled PET. We're aiming to expand that to 10 markets by the end of the first quarter of next year," Willemsen said.

PepsiCo set up proper collection systems with recyclers, and has worked with regulators to ensure that recycled PET is approved for food-grade consumption and used in PepsiCo's packaging, he added.

Willemsen said that his company recently celebrated 60 years of operations in Saudi Arabia.

"Saudi Arabia for us is one of our key markets. We're very proud of our presence in the Kingdom and what we've been able to create with our local partners," he said.