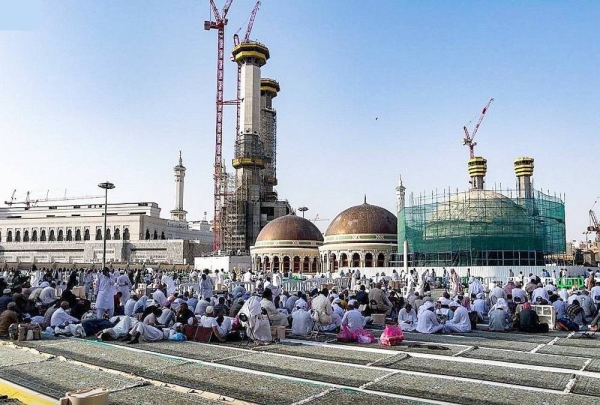 Presidency confirms readiness of Grand Mosque's rooftop to receive worshipers
The General Presidency for the Affairs of the Two Holy Mosques has prepared the roof of the Grand Mosque for worshipers and visitors to the Haram, with all services upon directive from the Presidency President Sheikh Dr. Abdurrahman Bin Abdulaziz Al-Sudais, to open it for worshipers and Umrah performers.
The Presidency confirmed that all services provided to visitors to the Grand Mosque on the rooftop are in full readiness. The balconies overlooking the Mataf will be allocated to Umrah performers, while behind the balconies will be for worshipers, in addition to allocating (330) human cadres working to organize and manage the crowds according to the plan of the blessed month of Ramadan.

It also explained that the operational status of all escalators, elevators and the sound system is fully ready and is supervised by a specialized team to ensure implementation in accordance with followed technical principles, and to ensure that they are free of any defects using the latest technologies.

This readiness and supervision of the technologies is due to the care being given by the Kingdom's government to the Two Holy Mosques and their pilgrims, Umrah performers and visitors.

It is worth mentioning that since the beginning of the blessed month of Ramadan, the Presidency has allocated 48 gates for worshipers to enter, including 17 gates in the 3rd Saudi expansion, 23 gates in King Fahd's expansion and (7) gates in the Mas'a area as well as the gate of Ajyad bridge.

It has also allocated (38) gates for Umrah performers to enter the Grand Mosque, including (13) gates in the expansion of King Fahd, (6) gates in the area of King Abdulaziz (Ajyad) and (19) gates in Mas'a area.

This is in addition to (4) gates for emergency services for Umrah pilgrims and (10) gates dedicated to services amid the presence of more than (600) gates monitors, in preparation for the opening of stairway 91, gate 84, gate 78, gate 74 and gate 70.