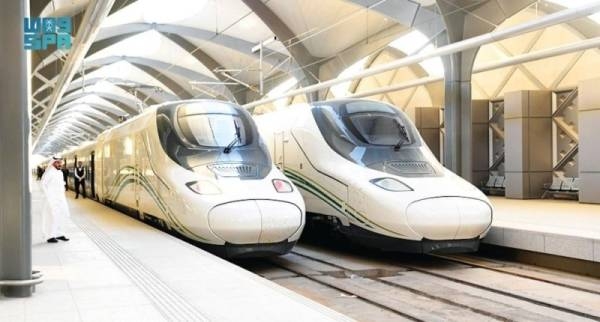 SAR: Over 4.1m passenger transported in 2022; an increase of 100% from 2021
The Saudi Railway Company (SAR) announced that it has transported more than 4.1 million passengers during 2022, recording an increase of 100% compared to 2021, of whom, 1.35 million pilgrims were transported through the Al Mashaer train.
SAR's announcement came while revealing its achievements during 2022, as it has shown in an infographic that the amount of goods and minerals that were transported reached about 24 million ton, recording an increase of 22%. This resulted in the removal of more than 1.8 million truck trips transporting goods.

In regard of cadres' development, SAR said that the percentage of Saudization reached 87%, and the training hours for employees reached 103,467 hours, adding that they have qualified 32 Saudi women to pilot the train.

During 2022, SAR launched the Al-Qurayyat station, the car transport service, in addition to the Jubail internal train network projects, as well as the railway project linking the north and east networks with the Jubail internal network.

SAR also indicated that it had obtained several certificates and an award, which is the Information Security Management System certificate (ISO 27001), as well as the certificate of ISO/IEC 20000-1:2018 IT Service Management, in addition to the CIPD award for the best work environment.