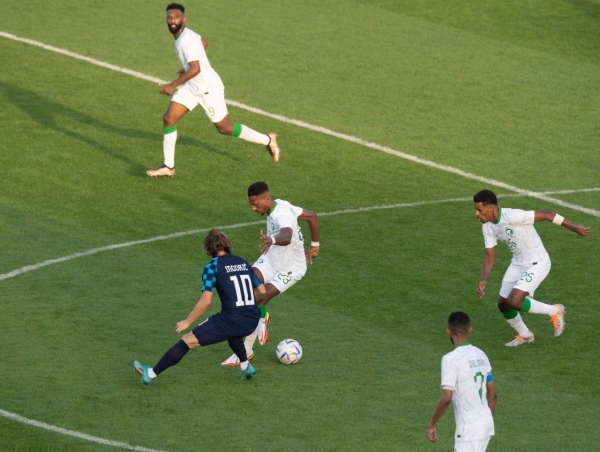 Saudi Arabia loses to Croatia 0-1 in Riyadh friendly match ahead of World Cup
The Saudi national team lost to its Croatian counterpart, the defending World Cup runners-up, 0-1 on Wednesday, at the end of their preparations for the Qatar World Cup 2022, which kicks off on Sunday, Nov. 20.
In the friendly match held at Prince Faisal bin Fahd Stadium in Riyadh, the Green Falcons demonstrated their best ever performance of the year, boosting their morale and confidence ahead of the squad's travel to Qatar.

The Saudi team gave a strong fight to Croatia and was successful in foiling the European team's attempts to score goals up to the last 10 minutes of the match. The match witnessed the only goal at the 82nd minute by Andrej Kramaric, Croatia's striker from the German Hoffenheim club, scored the goal, with the assistance of Luka Modric, the Spanish star of Real Madrid.

Fed by Modric on the left, Kramaric's low shot ended up in the right-hand side of the goalpost. Kramaric's goal came eight minutes after his goal from close range that was ruled out for offside at the 74th minute of the match.

The Green Falcons, playing the World Cup for the sixth time, will meet Argentina in the opening game of Group C on Tuesday, Nov. 22. The other countries in the group are Poland and Mexico.

Croatia will begin their World Cup journey by meeting Morocco in Group F on Wednesday and other countries in the group are Belgium and Canada.

Green Falcons continued their practice at Prince Faisal bin Fahd Stadium in Riyadh under the supervision of Coach Herve Renard, from Monday as part of the fourth and final phase of the preparatory program for the FIFA World Cup.

During their practice sessions in Abu Dhabi earlier, the team played five friendly matches against the teams of Macedonia, Albania, Honduras, Iceland, and Panama.