The Diriyah Project will be the Public Investment Fund's (PIF) fifth giga-project – joining Neom, the Red Sea, Qiddiya, and Roshn – Saudi Arabia's Crown Prince Mohammed bin Salman announced on Monday.
The project reflects Diriyah's status as a unique destination with distinctive cultural, historical, and tourism landmarks, the Saudi Press Agency (SPA) cited the crown prince as saying.

In 2017, a royal decree established the Diriyah Gate Development Authority (DGDA) to help maintain the heritage and history of Diriyah. The DGDA will continue serving the Diriyah community, while providing the PIF with full support to establish the Diriyah Project as one of the world's most prominent tourist destinations, SPA reported.

Giga-projects are a main pillar of the PIF's overall strategy of transforming regions in the Kingdom, launching new sectors that drive economic growth and diversification in Saudi Arabia, and creating investment opportunities across multiple sectors, according to SPA.

The Diriyah giga-project is expected to enable many strategic domestic sectors, create partnerships with the local private sector, and unlock new investment opportunities throughout its development and production phases in various fields such as construction, operation and management of hotels, retail, entertainment, and cultural facilities, SPA reported.

The project will also help create thousands of new job opportunities and develop a series of initiatives designed to contribute to enriching the quality of life for residents and visitors.

The announcement comes as part of the leadership's efforts to enhance Saudi Arabia's cultural identity. The Diriyah Project is located in the birthplace of the Kingdom and is home to several significant natural and historical monuments, including the Turaif District UNESCO World Heritage Site.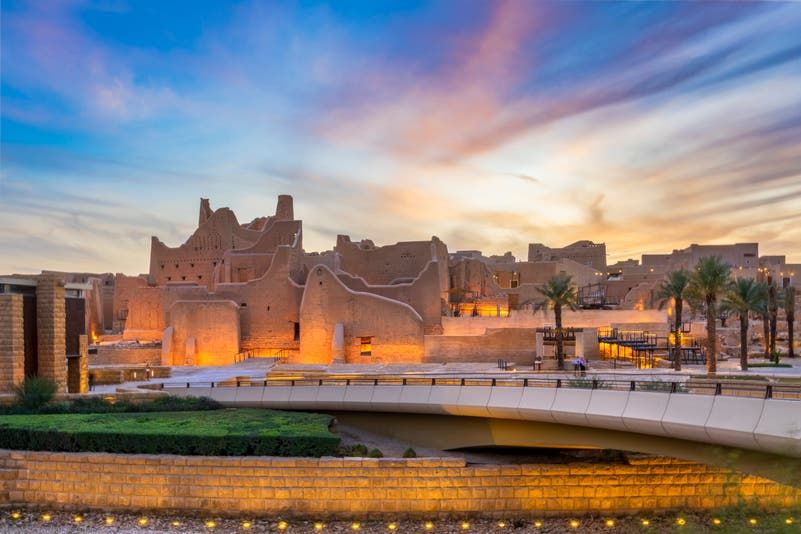 The historic district of At-Turaif in Ad-Diriyah north-west of Riyadh.
These cultural and historical aspects position Diriyah as an unrivaled destination of global significance in which Saudi heritage can be explored and celebrated, according to the SPA report.
Tourists will have the opportunity to learn about the Kingdom's history and its culture at the city's museums and purpose-built pavilions.