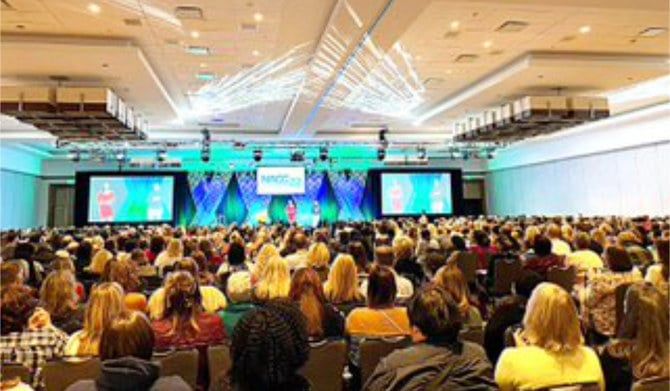 Saudi Arabia's Mawhiba takes leading role as sponsor of US convention for gifted children
The 69th Annual Convention of the National Association for Gifted Children is being held in Indiana, US, between Nov. 17-20, with the participation of more than 2,000 people.
During the opening ceremony, an introductory film about Mawhiba was presented, in the presence of the participating delegation led by Mawhiba Deputy Secretary-General for Gifted Services Basil Al-Sadhan, convention guests from the educational community and decision-makers interested in talent and creativity, as well as parents, teachers and researchers.

Mawhiba will take part in the event with members of the foundation in a pavilion throughout the conference to highlight Saudi Arabia's role in caring for and empowering talent and innovation, as well as promoting communication with the educational community. The members will take part in a dialogue session that seeks to find solutions that contribute to improving the educational environment for gifted children and youth.

The members of the delegation — including Noura Al-Dawsari, Rawan Al-Qahtani, Bakr Madini and Abdulaziz Al-Qahtani — will review their local and international achievements, the Mawhiba enrichment programs they attended and the impacts on their academic achievement as well as life decisions, along with their ambitions for the future, challenges facing education for the gifted and the available solutions.

In a statement, the foundation said: "Sponsoring the event reflects Mawhiba's international dimension as a global leader with the most comprehensive approach in discovering and sponsoring gifted people around the world, as well as sharing its experience and expertise in discovering and sponsoring talented, and creative individuals in the scientific areas of development priority."

The foundation added that through sponsoring and taking part in the event, it aims to build a system for talent and innovation locally, regionally and internationally. The system is based on its vision represented by empowering talent and innovation, which is the foundation of prosperity.