The Saudi banking system has become a cornerstone for the industry in the region but the Kingdom needs to focus more on global expansion, according to an industry expert.
The country has undergone a process of modernization at a very rapid pace, which "is a good thing," George Kanaan, the CEO of the London-based Arab Bankers Association, told Arab News, and having a coherent vision to work within is very important.

"You really cannot run a country, or create progress in a country, without having a vision as to where you want to see that country be, and the need for reforms is great," he said.

Kanaan, a Harvard graduate who has worked in New York, Athens, Saudi Arabia and Chicago, said the Kingdom's banking system is continually growing in sophistication and becoming more reliant on local talent, but there is still a lot of potential for growth, particularly in the international arena.

"The Saudi banking system, given what Saudi Arabia is all about, needs to become more globalized," he said. "It could become the dominant banking system in the Middle East, generally, given its resources and its expertise right now, but it should go beyond the Middle East."

The Kingdom should be looking expand its banking presence in Africa, Europe, the US and Asia, "where the growth in the future seems to be," Kanaan said.

"We don't see much presence, for example in the UK, (where) we have only two banks from Saudi Arabia, but its vision should be more regional and more global," he added.

The Kingdom launched 11 initiatives in 2017 to help achieve finance-related aims of Vision 2030, the most prominent of which was the Financial Sector Development Program. This aims to create a diversified and effective financial-services sector to support the development of the national economy, diversify its sources of income, and stimulate savings, finance and investment.
In terms of size, the Saudi banking sector is expected to grow to hold assets worth SR4.553 billion ($1.214 billion) by 2030, compared with SR2.631 billion in 2019, the government has said.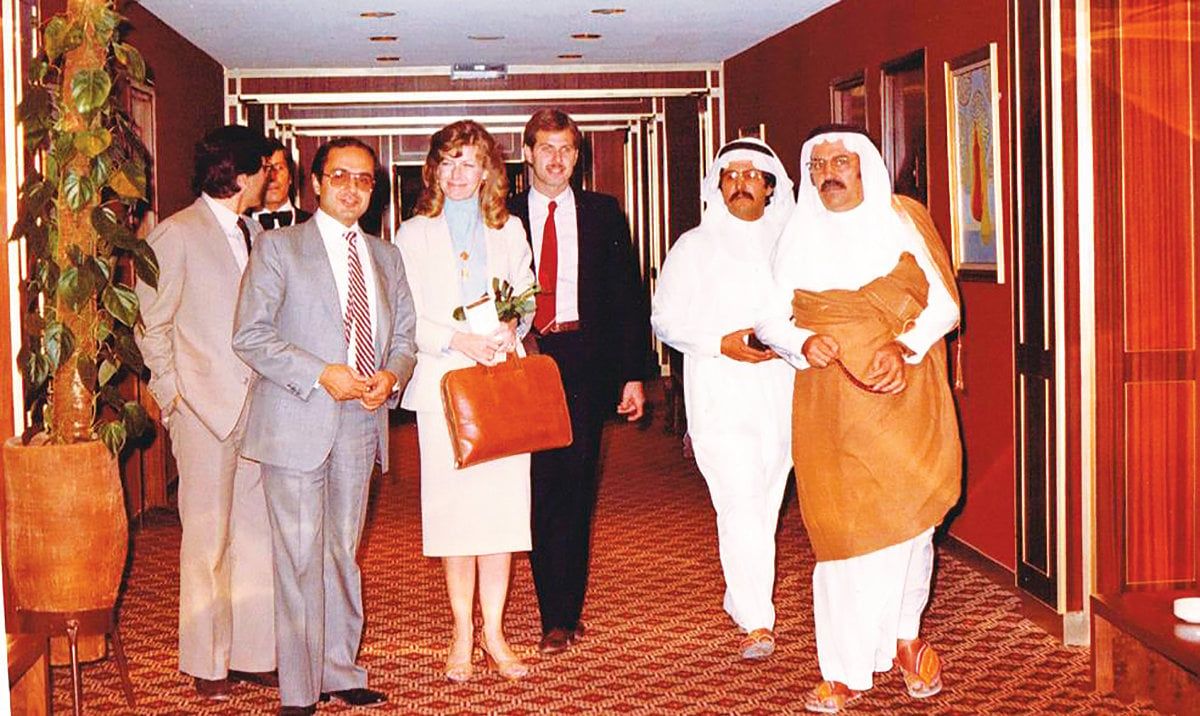 George Kanaan, second left, and Sheikh Muhammed Al-Saikhan of The Arabian Cooperation Company and their staff at the signing of a large syndicated loan in 1983.
Saudi banking has come a long way since 1926, when the Netherlands Trading Society opened its first branch in Jeddah to provide financial services for pilgrims, who were the major source of revenue in the local economy before the discovery of oil in 1939.
After the Second World War, demand for oil surged. Production, government revenues and expenditure rose rapidly as a result, and foreign banks began to enter the market. By end of 1989, there were 1,007 branches compared with 247 in 1980.
Kanaan, who began his banking career with Citibank in New York in 1975, moved to Riyadh in the late 1970s where he worked as a relationship manager in the bank's contracting division — which later became the Saudi American Bank and is now Samba.
"Saudi Arabia was being built, contractor financing was greatly in demand and we had innovated greatly in terms of our ability to meet contractors' needs without taking too much risk, because contracting is known as a risky business," he said.
"I was asked to form the first merchant-banking unit for the new bank, in the early 1980s, and this work was very important because the projects and work being introduced in the Kingdom were becoming larger and larger and the clients who were taking on these projects were beginning to need very large facilities."
The clients were not able to do this on their own and so banks in Bahrain, Dubai, Hong Kong and London were all looking for a share of their business.
"The risk was relatively reasonable; the market in Saudi Arabia was huge, everybody wanted to be part of the action and I was the ticket," Kanaan said.
"I became probably one of the most well-known bankers in Saudi Arabia because of the big deals and syndications being reported upon."
Saudi banking regulations have become more extensive and sophisticated in the past two decades, particularly since the global financial crisis of 2008, he said, but in his opinion we have reached a point where, in some respects, the regulatory setup needs to ease off and rethink some of its aspects.
"Sustainable investment has become a priority in the global agenda," Kanaan said. "There has been a rise in investments in environmental, social and corporate governance and related risk policies.
"It has even become a necessity to define and develop corporate-sustainability strategies and it is part of the agenda of global governments."
The current Saudi strategy aims to strengthen the global position of the Kingdom in Islamic finance, given it has the largest share of this sector, he said.
"The strategy will also contribute to the necessary marketing and incentives to spread the tremendous capabilities that the Kingdom is undertaking in this sector," said Kanaan.
"The Kingdom possesses adequate financial and intellectual capital to promote this sector locally and market it internationally, and this will allow it to attract more assets and influence in the Islamic finance sector and enhance KSA's international position as the leader in Islamic finance.
"It's become quite remarkable. It's at the forefront of banking practice around the world. Saudi banking is interesting now and the successive efforts at Saudization — bringing Saudis into good positions in the banks — have succeeded, finally, and you are seeing a lot of Saudi bankers, not only Saudi banks full up with all sorts of expatriate talent.
"Saudi banking right now is highly rated and very professional, the banks are very, very strong, and the mergers are going to lead to even stronger and bigger banks."