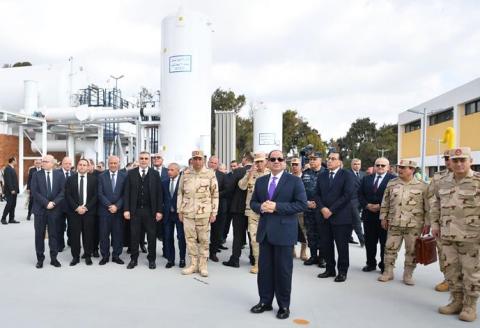 Sisi Stresses Availability of US Dollar in Egypt
Egyptian President Abdel Fattah al-Sisi stressed that foreign currency is available to release imported goods in ports, assuring that the government has dollars.
During the inauguration of two medical and industrial gas plants and a tri-generation plant in the chemical industries complex in Abu Rawash, Giza, Sisi said state was keen on boosting the national production of strategic products and imported commodities to reduce pressure on the US dollar.

He called on the government to announce the volume of goods released from the ports, adding that Egyptian banks would cover the funds to secure the release of some goods.

Sisi called for solidarity to confront price hikes and alleviate the suffering of citizens, vowing that facts would be reported to the citizens.

The government would ensure a stable agricultural input, declared Sisi, noting that efforts had been exerted to ensure a steady supply of fertilizers in the local market at affordable prices.

He warned that high international gas prices used in the fertilizer industry would increase the current rates, wondering who would handle the high cost.

Sisi addressed citizens, saying: "Don't ever think that we, as officials and human beings, are not aware that prices are a burden on people. But, by God, we can do nothing more than what we already are doing."

He noted that the government had refrained from raising electricity tariffs in factories to avoid causing a spike in the prices of goods in the market.

He asserted that all parties need to unite to confront the price hike.

Turning to the controversy regarding a draft law establishing the Suez Canal Authority (SCA), Sisi, in his first remarks on the issues, stressed the need for having savings at the various ministries and agencies, describing the Authority as "the dream."

Since 1975, the canal has generated revenues worth $220 billion, he added, noting that if ten percent of that revenues were deducted and put in a fund, it could have been used to finance the Authority and develop the canal.

The Suez Canal Authority has become a necessity, said Sisi, stressing that all the funds would only be spent with his permission.