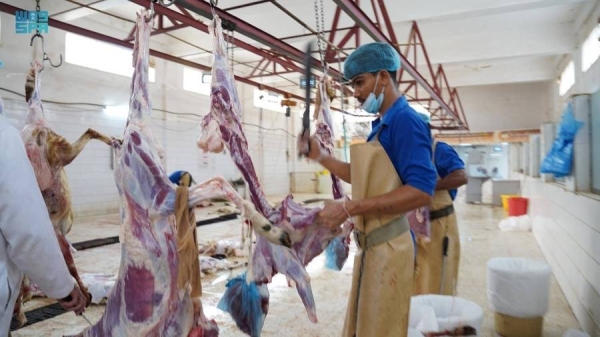 Slaughterhouses of MEWA received more than 600,000 sacrifices in 3 days of Eid
The Ministry of Environment, Water and Agriculture (MEWA) announced that it has received more than 600,000 sacrifices (Adahi) in its slaughterhouses during the past three days of Eid Al-Adha.
The ministry said that its slaughterhouses around the regions in Saudi Arabia have witnessed various types of sacrifices, including sheep, goats, cows and camels.

It is worth mentioning that the highest share in the number of sacrifices was in the slaughterhouses of Makkah, as it received about 382,900 sacrifices.

Riyadh followed Makkah with the second highest number of sacrifices, as the number of sacrifices in the ministry's slaughterhouses reached 102,200 sacrifices, then the Eastern Province (Al-Sharqiyah) with 37,050 sacrifices, and Madinah with 36,700 sacrifices.

It is noteworthy that the sacrifice is defined as what a Muslim slaughters of animals during the days of Eid Al-Adha, as this process is one of the legitimate rituals of Islam on which Muslims are unanimously agreed.

It is the slaughter of a specific animal with the intention of getting close to God Almighty at a specific time during the days of Eid Al-Adha until the last days (called the days of Al-Tashreeq), which are the 11th, 12th, and 13th days of the month of Dhul-Hijjah.