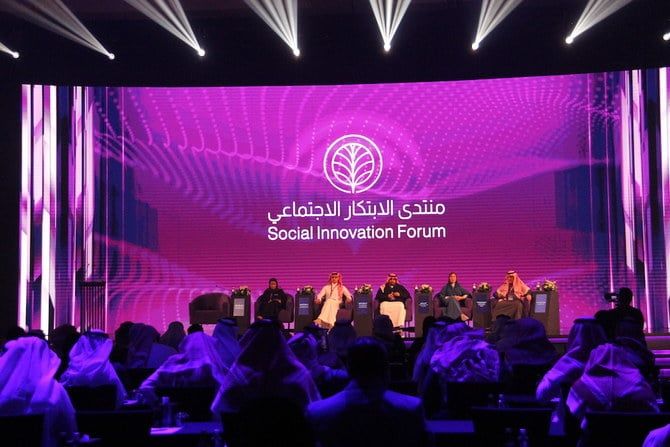 Social innovation must serve people, Riyadh forum told
The Social Innovation Forum kicked off on Wednesday in Riyadh to promote discussion on the challenges surrounding social innovation and sustainability, and quality of life.
The two-day forum is being held under the patronage of Riyadh Gov. Prince Faisal bin Bandar, with the theme "The Generation of Inspiration."

Speakers on the opening day discussed widening the culture of social innovation in a session moderated by former Media Minister Turki Al-Shabanah.

Roberta Calarese, founder and CEO of Ghaya, said that she chose the private sector to drive positive societal changes.

"The journey of organization starts from transforming organizations from profit first into purpose first, and how they can contribute to solving the problems communities face today."

Calarese said that purpose must be incorporated and integrated into the strategy of an organization, and then expressed by the actions of leaders, employees and the collective.

But to drive change through purpose, its impact must be measured.

"If we want to talk about social innovation, we have a good idea of what we're going to innovate, yet true innovation happens once every 100 years and is very rare," said Calarese.

She added that people are being called on to make an evolutionary leap, to transform themselves from an "egosystem" to an ecosystem.

During the same session, Anas Al-Gadi, CEO of Social Innovation Center Sana, said: "The truth is that any innovation, whether technological or other, is a social imperative, and there cannot be any innovation unless it serves humans."

Al-Gadi said that the biggest dilemma in the subject of innovation is the human being.

People must change the old paradigm, and make humans and societies the center and axis of innovation across all sectors, he said.

"The starting point is people, not technology. In the past 40 years, perhaps we were not moving in the right direction, or we believe that innovation is an artistic view," Al-Gadi said.

He added that "95 percent of the patents in the world have no value as there was no impact on human life, and these resources went to waste without any impact."

Calarese added: "As much as we would like to try to solve all the problems of the world, it is going to be very difficult unless we actually transform the interior condition of people. The outer world is only a manifestation of people's inner worlds."

Other sessions discussed the latest updates in the field of social innovation, its role in the educational field and its relationship to youth, and its impact on the environment and digitization.

The organization of the forum comes within the framework of efforts by the Asbar Center for Studies, Research and Communications, which was established in 1994.