Being able to move easily around the world has been on hold, but when things start to change, who will have the most visa-free travel options?
Japanese passports are currently the most powerful in the world.

That's according to the migration and citizenship consultancy, Henley & Partners, which compiles a list of the world's most potent passports four times a year – and the ones that allow holders to travel widely and visa-free come out on top.

With a total of 193 potential visa-free destinations, Japanese passports are ranked the highest. Just one point behind is Singapore, with Germany and South Korea tied at third place.

At the other end of the ranking, the countries with the lowest visa-free travel capability are Yemen, Pakistan, Syria and Iraq. At the bottom of the list, Afghanistan allows visa-free travel to 26 countries, compared with Japan's 193.

The Henley Passport Index is based on a comparison of 199 different passports' access rights to 227 travel destinations with or without an additional visa. For each destination where no visa is required, where a visa, visitor's permit, or electronic travel authority (ETA) can be obtained on arrival, a nation's passport earns one point.

The rest of the top 10 is made up of Finland, Spain, Luxembourg, Denmark and Austria.


The top five for Q2 2021

The report comes as the travel industry grapples with the impact of the COVID-19 pandemic. And the outlook remains uncertain as the potential for new variants of the virus causes governments to curtail or suspend travel to help stop the spread.

Vaccine programmes being rolled out in some parts of the world offer some hope, with many looking forward to the prospect of international travel again.

Another possible consequence is a rise in the number of economic migrants in the post-pandemic period, as changing office patterns free people to work from different locations.

Henley & Partners refers to them as visa nomads: typically, professionals whose employers are adopting more flexible approaches to employment.

Several countries are hoping to tap into this potential talent pool by creating easy-access visa arrangements and visa waiver programmes. In the report accompanying the passport index, Greg Lindsay, director of applied research at NewCities, a nonprofit that works in the field of sustainable urban development, writes: "2021 will be the year savvy governments begin to harness post-pandemic migration opportunities as the driving force for economic recovery and development."


Attracting new citizens

In Finland, the Helsinki Business Hub has created a '90 Day Finn' program, to attract investors and tech nomads. The programme fast tracks the process of being able to settle in the country and offers additional benefits including access to housing and childcare, earning itself the nickname city-as-a-service.

Portugal's Startup Madeira, backed by the government, has launched an initiative called Nomad Village, aimed at a similar demographic.

Fancy Barbados? It's Welcome Stamp allows international visitors to live and work on the island for up to a year and costs $2,000.

Taiwan has a similar scheme in operation – its Gold Card is a combined work and residence permit that allows recipients to leave and re-enter the island.

Several countries have also become popular destinations for people looking to acquire new citizenship status via inward investment. According to Henley & Partners, more than 100 countries operate such schemes, "including 60% of EU member states."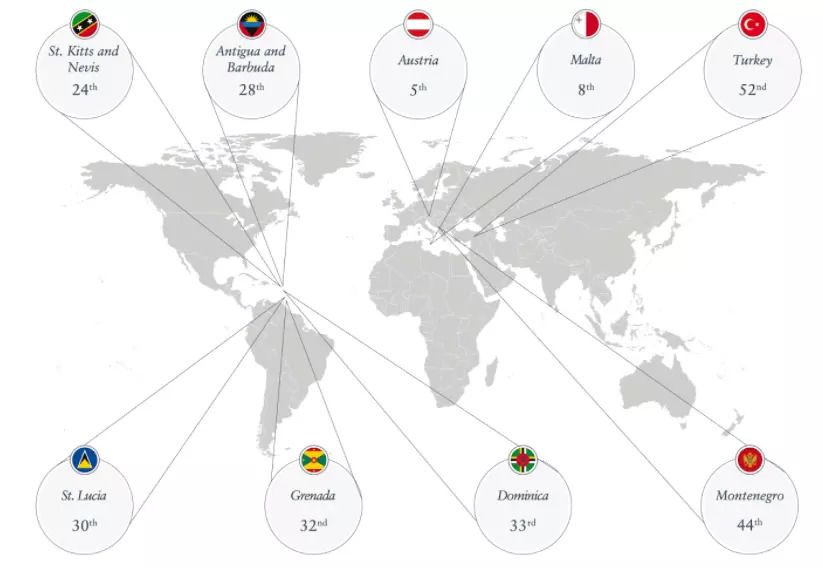 Favoured destinations to acquire citizenship, showing their passport-power ranking

The cost of such citizenship programmes varies considerably around the world. Austria, for example, requires a minimum investment of approximately $3.6 million. If the Caribbean is more to your liking, however, a number of options are available starting at $100,000.