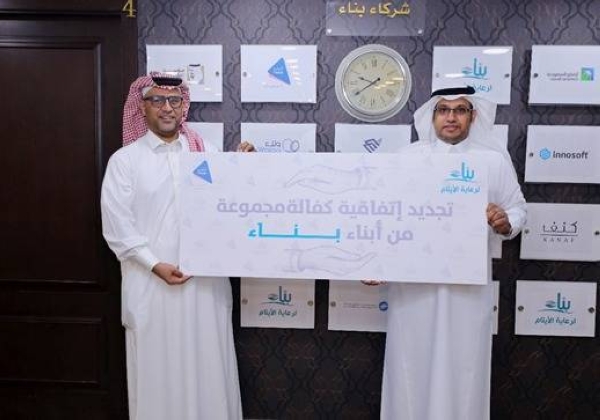 Theeb Rent A Car renews yearly sponsorship with 'Benaa'
Theeb Rent a Car Company has announced the renewal of its agreement with the Charity Association for Orphans Care in the Eastern Region "Benaa", according to which TRC sponsors 25 orphans, within its "Theeb Al Khair" community participation program.
The renewal of the agreement is one of the company's humanitarian and charitable initiatives related to sponsoring orphans, which is a top priority as per the "Theeb Al Khair" program. The company aims to help humanitarian agencies implement their programs that serve and develop society and to contribute to spreading the culture of good deeds among institutions and individuals.

The renewed agreement was signed by Nasser Musa Al Theeb, the Regional Director for the Eastern Region, on behalf of Theeb Rent-a-Car Company and Abdullah Al-Khalidi, the General Manager of Benaa, on behalf of the Charity Association for Orphans Care in the Eastern Region "Benaa", in the presence of several officials representing both sides.

Nasser commented on the renewal saying: "Our renewed agreement with Benaa, comes as an emphasis of TRC's continuation of its pioneering role in contributing to various humanitarian and charitable initiatives, especially initiatives to sponsor orphans in an attempt to make up for the loss of their families, and thus providing them with a decent life. This also comes to enhance our community participation, as part of our "Theeb Al Khair" program, which contributes effectively to supporting charitable works that serve important segments of our society."

While Al-Khalidi stressed that this agreement is a kind of community solidarity that falls within the framework of community development, to support and subvent the orphans until they reach the empowerment and self-reliance stage.

"Theeb Al-Khair" program is one of the community participation initiatives launched by Theeb Rent-a-Car Company. It is a comprehensive program supporting charitable and humanitarian work and made many contributions in many KSA regions, where supportive packages were offered to non-profit organizations and charitable associations.

Theeb-rent-a car, is one of the leading companies in the car rental industry across the KSA as well as the whole region, having a broad base of clients of different groups and sectors, as well as individuals. The company also has a great collective experience of over 30 years when it was launched back in 1991 and proudly owns more than 24 thousand cars now.