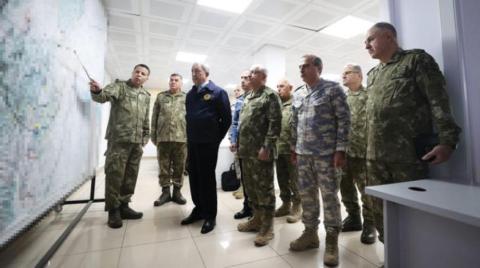 Turkish Defense Minister Visits Syrian Border, Stresses Dialogue
Turkish Defense Minister Hulusi Akar visited Türkiye's command center on the border with Syria overnight on Saturday.  
According to the Ministry of Defense, the minister and accompanying army commanders were briefed about the situation on the border during a meeting with officers and soldiers at the Operation Spring Shield command center.  

Akar told reporters that Ankara was in talks with Moscow about the situation in northern Syria and using the Syrian airspace for a potential cross-border operation against the Syrian Democratic Forces (SDF). 

"We are in talks and discussing with Russia about all issues, including opening the airspace," he said. 

He added that Türkiye is sending the necessary messages to all parties concerned with the Syrian file and taking steps without allowing anyone to undermine its sovereignty, independence, rights and interests. 

Akar pointed out that the Euphrates Shield, Olive Branch, Peace Spring and Spring Shield operations were "carried out successfully" against what he called "terrorist targets" in northern Syria.  

He stressed that Türkiye is determined to protect its rights and never ignores peace, talks, and dialogue, reiterating that Ankara will try to resolve problems reasonably and rationally.  

Türkiye and Russia have held talks earlier this month. Moscow wanted to dissuade Ankara from resorting to a military operation that included a ground invasion of SDF positions in Manbij, Tal Rifaat and Ain al-Arab.  

The Russian plan included the withdrawal of the SDF forces and their weapons from Manbij and Ain al-Arab. They would be replaced by the Syrian regime forces, while the SDF would maintain the Asayish security forces that would be integrated into the regime's security forces, revealed sources. 

However, Türkiye demanded the withdrawal from Tal Rifaat and the return of the Syrian regime as an alternative to the SDF, including security forces and border guards.  

Russia, Iran, and Türkiye continue to pressure the SDF to hand over Ain al-Arab and Manbij to the regime.  

The SDF demanded guarantees regarding its future after handing over the areas, noting that the US had forced Türkiye to freeze the ground operation in northern Syria. 

Akar's visit to the border and the talks with Russia regarding a possible ground operation came amid the escalation of the Turkish forces and the factions of the so-called Syrian National Army against SDF areas in the east and west of the Euphrates.