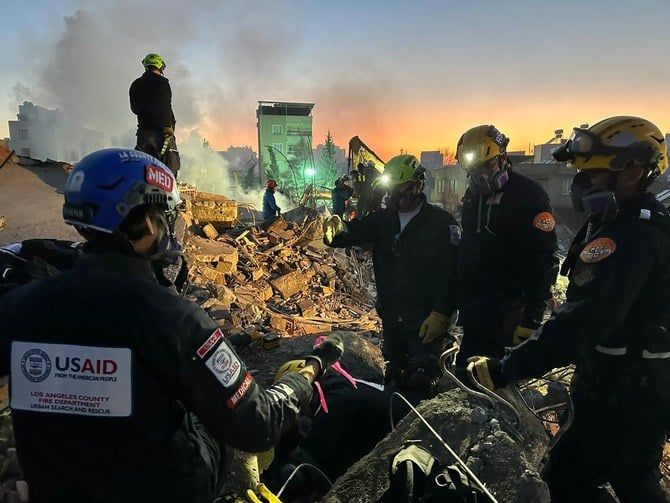 US general highlights efforts to aid earthquake victims and counter Iranian threat
The US government is providing vital assistance to earthquake victims in Turkiye and Syria, according to Gen. Jacqueline Van Ovost, the commander of US Transportation Command.
Speaking during a press briefing about her recent visit to the Gulf region, she said the US military and the US Agency for International Development have sent search and rescue teams and specially trained rescue dogs to assist with the humanitarian response to the disaster.

Transportation Command provided two military helicopters that had conducted 2,000 flights to transport teams across areas affected by the earthquakes, she added, and USAID has pledged $85 million of aid for both countries. Turkish authorities allowed the US military to use one of their air bases from which to conduct its humanitarian operations, she said.

Two massive earthquakes, of magnitude 7.8 and 7.5, struck southeastern Turkey and northern Syria on Feb. 6, causing massive destruction in both countries. The official death toll currently stands at more than 41,000 people and many thousands were injured.

Van Ovost said the US is working on the ground through existing connections with the Syrian Democratic Forces to plan its relief efforts, but that aid deliveries are carried out by non-governmental groups and international organizations.

She offered her "deepest condolences" to those effected by the earthquakes and said the US "will continue to work urgently with our Turkish allies and others to rush assistance to those in need."

During her tour of the Gulf she met representatives of women's groups in Kuwait, she said, and was impressed by and proud of their efforts to advance their roles within Kuwaiti society and help boost the country's economy and national security.

Van Ovost also praised Bahrain for its contribution to military and security efforts in the region through the provision of facilities at naval and military bases to US forces for the purpose of enhancing regional security. The US Fifth Fleet is based in Bahrain.

The general said she met with military leaders of America's Arab allies as part of the ongoing US-Gulf cooperation in efforts to confront regional threats originating in Iran.

"Iran poses the biggest military threat in the region and it must be confronted" through shared operations and development of the joint military capabilities of the US and its regional allies, she added.

In particular she highlighted the proliferation of Iranian drone attacks and the threat they pose to regional airspace, along with Tehran's hostile maritime activities.

"We must place increased emphasis on improving partners' collective defensive capabilities by building and maintaining sustainable, multilateral constructs, such as prioritizing the development of the Regional Security Construct, the Middle East Air Defense initiatives, and executing the International Maritime Security Construct," she said.

The US is "weaving Israel" into new military systems developed in the region to protect against potential threats from Iran, she added.

Van Ovost also talked about ongoing work to utilize developments in artificial intelligence in military applications and build integrated military systems to counter the actions of Tehran.

She said the US Central Command, the area of responsibility of which includes the Middle East, has developed radar, data sharing, and command and control centers that include liaison officers from Arab-partner nations, and introduced special hotlines to help provide rapid responses in case of emerging Iranian threats.

The US military is also developing regional, integrated air and missile defense systems capable of countering Iranian drones, as part of the work of its Task Force 99 stationed in Qatar, she added.

Meanwhile, Task Force 39, based in Bahrain, is using remote underwater sensors and AI technology to help protect waterways and ports from Iranian threats, Van Ovost said. US naval operations also use strategically important Red Sea ports in Jordan and Saudi Arabia to carry out the task force's work in deploying sensors and using smart technology in naval patrols, she added.