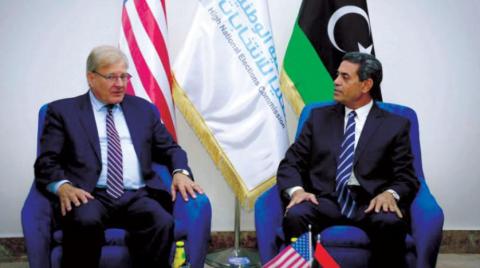 Washington Calls for Forming Unified Libyan Govt Via Elections  
US Special envoy to Libya Ambassador Richard Norland said on Thursday that having two governments in Libya is a "complicated" matter that can only be resolved by unifying the executive authorities through elections.
According to a statement circulated by the US embassy, Norland discussed with head of the High National Elections Commission Emad al-Sayeh in Tripoli on Thursday the commission's readiness to hold "transparent and credible" elections.

He reaffirmed the US support for Libya's democratic development.

Following the meeting, Norland underscored the importance of having a unified government, which can control the whole country, and called for focusing on the elections and setting laws and a basis for these elections.

He also pledged to "continue to focus on the main and influential actors in holding the elections, while supporting the political track and holding the elections as soon as possible."

Norland also implicitly criticized the parliament and the High Council of State's (HCS) failure to reach a consensus on setting the constitutional basis for the polls.

"We are looking forward to the meeting of the two bodies for this purpose," Norland said, adding that Sayeh confirmed the commission's readiness to hold the vote once the two sides agree on a constitutional basis.

Regarding transparency in the distribution of state revenues, Norland called for a mechanism to distribute oil revenues and returns to all Libyans, noting that he discussed several proposals by the Presidential Council, the Government of National Unity (GNU) and the HCS.

In remarks about the presence of foreign forces and the thousands of mercenaries in Libya, Norland affirmed his country's support for their departure, the unifying process of the military institution, and the work of the "5+5 Joint Military Commission."

"We have an idea about the process of unifying the Libyan army. We are focused on reopening our embassy in Libya, and working from the cities of Tripoli, Benghazi and Sabha."

During his meeting with chief of staff Mohammed al-Haddad of the GNU, Norland expressed US support for efforts to secure the departure of foreign mercenaries as well as all foreign forces, and cautioned against their further entrenchment in Libya.

"We discussed promising efforts to form a joint unit as a first step toward reunifying Libyan military forces," he added.