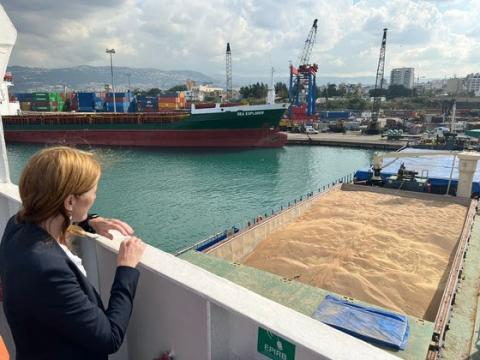 Washington Increases Aid to Lebanon, Urges Election of President
USAID Administrator Samantha Power concluded on Friday her multi-day visit to Lebanon where she announced additional humanitarian and educational aid and discussed with officials the importance of urgent action to respond to the economic crisis, elect a President and form a cabinet.
Power held in Beirut a series of meetings and events, according to a press release by USAID spokesperson Jessica Jennings.

She began by meeting with US Embassy and USAID employees, thanking them for their dedication and work advancing the US relationship with Lebanon, their support for the Lebanese people in a period of crisis, and the recent accomplishment of finalizing the agreement establishing a permanent Israel-Lebanon maritime boundary.

Power also visited the American University of Beirut (AUB) where she met with students from AUB and the Lebanese American University (LAU) who have received financial support from USAID for their undergraduate education.

She celebrated the individual achievements of the students and discussed with them the impact they can achieve as a new generation of public and private sector leaders in Lebanon.

The Administrator then announced that Washington will provide an additional $50 million for new scholarships and financial aid to AUB, LAU, and Notre Dame University-Louaize.

US State Department spokesperson Ned Price had earlier explained that of the $50 million, $15 million will support 140 full undergraduate scholarships to AUB and LAU for financially disadvantaged yet academically meritorious students.

The remainder of the funds will provide partial need-based financial aid for about 3,500 students over the next three years to help students who can no longer afford tuition amidst Lebanon's economic crisis.

In the Lebanese capital, Power met with Speaker Nabih Berri and Prime Minister Najib Mikati to discuss US-Lebanon relations, and the importance of urgent action to respond to the economic crisis, elect a President and form a Cabinet, and make advances on economic reforms.

In her discussions, she congratulated Lebanon on concluding the historic maritime agreement and urged officials to capitalize on this moment of progress to pursue steps that will restore domestic and international confidence in Lebanon's economy.

Power then visited the Port of Beirut, where she saw the visible devastation that still remains from the explosion two years ago.

At the Port, she observed ships unloading critically-needed grain from Ukraine.

The Administrator saw that compounding shocks, including the destruction of grain silos in the port blast and Putin's war against Ukraine, have caused the price of bread to skyrocket to about nine times higher than it was in the fall of 2019, and grain shipments from Ukraine play an important role in helping address the food insecurity being experienced by many Lebanese families.