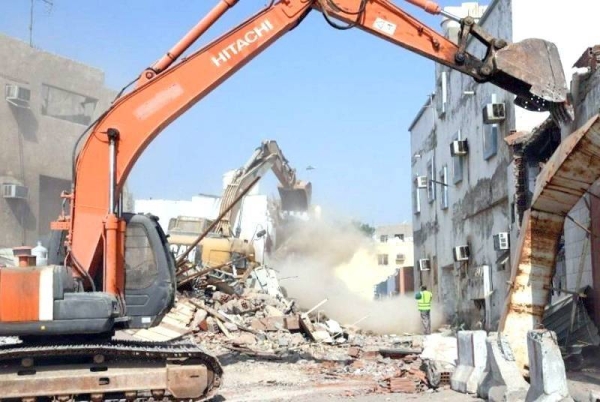 28 random neighborhoods in Jeddah razed; 4 remaining
The Jeddah Mayoralty announced on Monday that 28 slums and random neighborhoods have so far been razed as part of the Jeddah redevelopment plan. "Out of the total 32 neighborhoods, four are remaining and they will be removed within the scheduled timeline," said Muhammad Al-Baqmi, spokesman of the mayoralty.
Speaking to Al-Ekhbariya channel, Al-Baqmi said that notices will be served to the remaining neighborhoods as per the following schedule: Al-Montazahat neighborhood - July 23; Quwaizah, Al-Adl and Al-Fadl neighborhood - August, and Umm Al-Salam and Kilo 14 neighborhoods -September.

Al-Baqmi stated that any postponement or change in the timeline will be announced through the mayoralty's official social media accounts.

The mayoralty revealed earlier that the demolishing of buildings and removal of the rubble would be completed in all the targeted neighborhoods in the Jeddah governorate by the previously announced deadline of Nov. 17, 2022.

The razing of 20 slums and random neighborhoods has completed before the beginning of Ramadan while the procedures for the demolition of the remaining 12 slums and random districts in the governorate started after the end of the Eid Al-Fitr holidays.

According to the mayoralty, around 20 districts will be developed without demolishing them. These include Briman, Al-Ajwad, Al-Khumrah, Al-Sarwat, Al-Wadi, Al-Dahiya, Al-Quzwain, Al-Fadilah, Al-Qurainiyah, Kilo 14, Kilo 15, Kilo 16, Kilo 18, Kilo 23, North District 18, Hawarina, Mahamid, Al-Faw, and Hudhaifat.