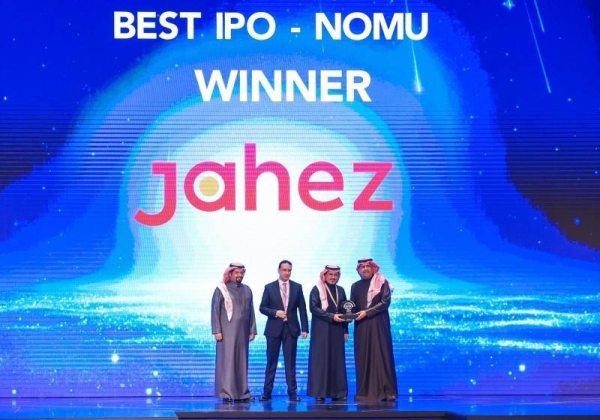 Jahez wins the best IPO in Nomu; launches 'Million Code' competition
Saudi online food delivery platform Jahez International Company for Information Systems Technology (Jahez) has won the best IPO (initial public offering) on the Saudi Stock Exchange's Parallel Market Nomu.
Jahez bagged the IPO award, which is considered the largest ever, and the award was given away at the ceremony of the Saudi Stock Exchange Awards 2022.

Eng. Ghassab Al-Mandeel, CEO of Jahez, received the award in the presence of Chairman of the Board of Saudi Capital Market Authority Mohammed Elkuwaiz, and CEO of the Saudi Tadawul Group Eng. Khalid Alhussan.

This award comes as confirmation of what was published by Okaz/Saudi Gazette on December 15, 2022, that Jahez was at the forefront of the parallel stock companies on Nomu in terms of market value, which reached currently about SR6.81 billion.

It is noteworthy that Jahez celebrated on Jan. 5, 2022, the listing of its shares and commencement of trading on Nomu, following the successful completion of its IPO, with the symbol 9526 and ISIN Code SA15ED94KR18.

On Sept. 29, 2021, the Capital Market Authority approved an application from Jahez to offer 1.36 million shares or 13 percent of its capital. It also green-lighted Jahez's application to increase the size of its offer on Nomu to 1.89 million shares or 18 percent of the company's capital.

The company successfully completed the book-building process for the tranche of qualified institutional investors. Retail subscription to Jahez share sale on Nomu closed on Dec. 26, 2021. Individuals subscribed to 272,800 shares at SR850 each. The retail offering was 588.9 percent oversubscribed

In conjunction with winning the award, Jahez launched the "Easy Million Code" competition, under which Jahez customers can win when they share the one million code while inviting their friends through the code.