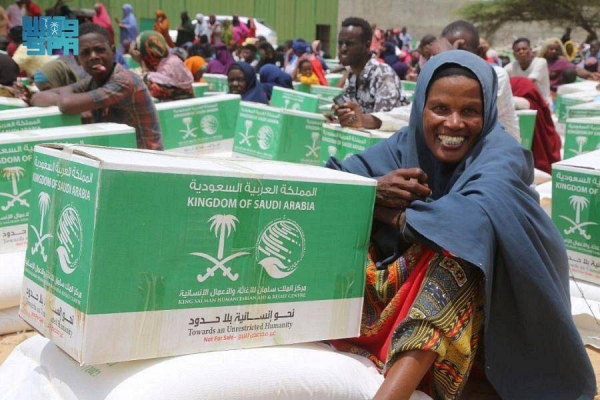 KSrelief to launch 2nd phase of emergency relief in Somalia early next week
King Salman Humanitarian Aid and Relief Center (KSRelief) will launch early next week the second phase of the emergency intervention which will contribute to reducing the repercussions of drought and famine facing Somalia and impacting its citizens.
This was announced in a press statement on Friday by Dr. Abdullah bin Abdulaziz Al Rabeeah, Adviser at the Royal Court and Supervisor General of the Center.

Al Rabeeah explained that the second phase will include distributing more than 52,000 food baskets, securing and distributing potable water to areas of displacement and drought, and distributing the necessary supplies to the displaced families there, in addition to launching several food security projects in cooperation with the center's partners from the UN and international organizations and civil society institutions, as well as distributing dates to the needy people in Somalia.

Al Rabeeah said the total value of the second phase projects is SR47,128,636 and will be implemented under direct follow-up from the Center's branch in Somalia.

He said the first phase included the distribution of 78,000 food baskets weighing 5,200 tons, the provision of potable water, and the distribution of sacrificial meat to drought-affected families in Somalia, at a total cost of SR22,926,000.

Dr. Al Rabeeah stressed that this support reflects the keenness of the Kingdom, its government, and its people, to stand by their brothers in Somalia and alleviate their suffering. It also comes as an extension of the Kingdom's humanitarian efforts toward other countries in times of crises and adversities.