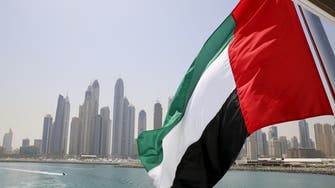 Retailers, hotels slash prices after Dubai removes 30 pct tax on alcohol sales
Retailers and hotels have begun slashing prices on licensed beverages after a decision by the Dubai Municipality to remove a 30 percent tax on alcohol for 2023.
Dubai Municipality confirmed on Monday that the decision affects companies selling alcoholic beverages in the emirate and licensed retailers had been informed.

In a tweet, it confirmed collection of the tax had been temporarily suspended. The change took immediate effect on January 1.

"Kindly note that Dubai Municipality has temporarily stopped collecting the 30 per cent fee from alcoholic beverage companies for a period of one year from the beginning of 01/01/2023 to the end of 12/31/2023," it said.

"The companies authorized to sell in the emirate of Dubai have been notified of the decision."

Tyrone Reid, CEO of Maritime & Mercantile International (MMI), an off-licence chain, told Al Arabiya English in a statement they welcomed the decision and changes had already been put into force.

"Following the announcement by the Government of Dubai to remove the 30 percent municipality tax on sales of alcoholic beverages, we are pleased to announce that this will be reflected across all alcoholic beverage products in all our 21 MMI stores in Dubai, effective January 1."

Meanwhile, at African & Eastern, another off-licence chain, workers in its Dubai's Motor City branch were busy marking down the sale of licensed beverages across the store on Monday.

"Everything is going down," a worker said. "Everything is so much cheaper now."

Sami Matta, multi-outlet general manager at 25hours Hotel One Central, also welcomed the news.

He told Al Arabiya English: "With the announcement of the tax reduction, it is good news for both the restaurateur and the consumer."

"Not only will it boost tourism to the emirate, where the prices of drinks are among the highest worldwide, it will also allow people to enjoy premium wines and spirits at more reasonable prices."

"As our acquisition cost will reduce by 30 percent, our prices will reflect this as of next week as we support the government regulations made to make Dubai a more attractive and competitive destination for both tourists and residents."

"Although currently set as a one-year trial period, I am confident it will have a big positive impact, which could lead to it being a permanent regulation. Extending this period will also help stakeholders make the necessary adjustments after reviewing and analyzing the results of the changes implemented in the first year."

Hari Kaimal, CEO of Goldmead Hospitality, said the decision would have a positive impact on the emirate's hospitality industry.

"The Dubai government's decision to remove the 30 percent tax on alcoholic beverages is certainly a welcome change in regulation, and will no doubt provide a boost to the hospitality industry."

"The industry's cost of acquisition of alcoholic beverages will now reduce by 30 percent and we expect that the majority of operators will pass on most of the savings, if not all to their customers."

"We certainly plan to do so, and our menus across our different venues will reflect this change shortly. It should be an obvious choice for most operators at least in certain product categories such as draught beer and spirits which are more price elastic here than the rest of the world."

"We strongly believe this will spur a boost in consumption, especially coming off the back of a strong Q4 and major events such as the FIFA World Cup Qatar 2022."

Alessio Ruffoni, general manager of Mama Zonia restaurant in Dubai's Pier 7, said they would be revising their liquor price list after the announcement.

"After living in the UAE for over 16 years, it still surprises me how great this country is being managed," he told Al Arabiya English. "It seems that the government and the local authorities are always one step ahead of the game."

"The removal of the tax is great news for all residents, tourists, and hospitality venues as I am sure people will be happier spending their money on more fairly priced alcohol with the likelihood of going out more often because of this. At Mama Zonia, we will be revising our prices with this recent announcement in mind."

Both MMI and African Eastern also sent out circulars informing customers that from January 1, personal alcohol licenses that are required to buy alcohol in shops will be free.

Prior to this, the license cost about $70 per year.

A valid Emirates ID, or passports for tourists, are still necessary to apply for the license.