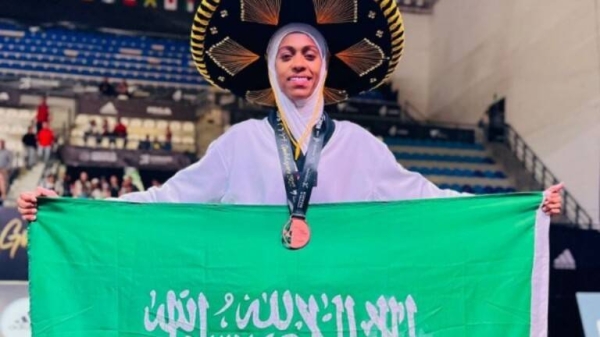 Saudi Arabia's Donia makes history, winning bronze in World Taekwondo Championship
Saudi Arabia's Donia Abu Talib made an unprecedented achievement on Thursday by winning the bronze medal in the category of 49 kg in the 2022 World Taekwondo Championship.
Donia, the Saudi national taekwondo athlete, scripted history, by becoming the first Saudi woman to bag a taekwondo medal in the World Taekwondo Championship, by defeating Spanish world number one Adriana Cerezo Iglesias. Adriana is the gold medalist in the Women's World Championship and winner of the silver medal in the 2020 Tokyo Summer Olympics.

Donia made brilliant feats all throughout the championship. In the round of 64, she defeated the Kazakh national team player Kabanova Butakoz 2-0, to meet the world's eighth-ranked German player Suvarada Kishkalt, beating her 2-1 in the 32nd round.

In the round of 16, Donia defeated the Egyptian national team player Shahad Al-Husseini, ranked 9th in the world by 2-0.

Donia, qualified for the round of 8, beating the Spanish world number one, Adriana. However, in the semi-finals, she faced defeat at the hands of Qin Gu of China, winning the bronze medal.

Brig. Gen. Shaddad Al-Omari, president of the Saudi Taekwondo Federation, congratulated Donia for her remarkable achievement. "This distinction is the culmination of the efforts made by officials in the sports sector," he said while thanking the Saudi leadership for the unstinted support that enabled to score great achievements in the sports sector.

Donia is among the four competitors representing Saudi Arabia in the championship. Athletes from 122 nations are taking part in the championship, which began in the Mexican city of Guadalajara on Nov. 13 and will continue until Nov. 20.

Other athletes representing Saudi Arabia in the championship are Fahd Al-Samih, who is competing in the 54 kg category, Riyad Al-Dhafiri (58 kg), and Ali Al-Mabrouk (80 kg).

Donia won the first bronze medal in 53 kg in the 25th Asian Taekwondo Championship, which was held in Chuncheon, South Korea, last June. She also won the first Saudi gold medal for women in taekwondo, at the Arab Taekwondo Championship, held in the UAE in 2020.