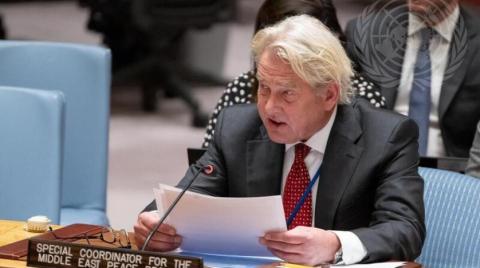 UN Special Coordinator Warns Oslo Accords Are 'Slipping Away'
The UN Special Coordinator for the Middle East Peace Process, Tor Wennesland, warned that the Palestinian-Israeli once again reached a "boiling point," stressing that the settlement expansion and restrictions continue to squeeze the "economic and physical space for developing a viable Palestinian State."
He warned that the current context leads to the disappearance of the principles that underpin the Oslo Accords, including the two-state solution.

Wennesland was briefing the Security Council on the situation in the Middle East and noted that after decades of persistent violence, illegal settlement expansion, dormant negotiations, and deepening occupation, "the conflict is again reaching a boiling point."

He indicated that "high levels" of violence in the occupied West Bank and Israel in recent months, including attacks against Israeli and Palestinian civilians, increased use of arms, and settler-related violence, have "caused grave human suffering."

He condemned the recent bombings in Jerusalem that killed two Israelis, calling for "a clear rejection of such terrorist acts," and the violent attack by Israeli settlers against Palestinians in Hebron that risks aggravating an already tense environment.

The official asserted that all parties were responsible for acting against extremists and speaking out against such acts of violence and incitement.

Wennesland noted that the "fragile calm" was recently interrupted by the launching of four rockets toward Israel by Palestinian gunmen and subsequent Israeli airstrikes against what it said were Hamas movement targets.

"Once again, we are reminded that the mix of militant activity, debilitating closures, absence of the legitimate Palestinian Government, and hopelessness create an ever-present risk of escalation."

"My team and I have in recent weeks visited areas where violence has been severe, and I continue to hold discussions with a range of Palestinian and Israeli officials, as well as international and regional actors, to address the dangerous dynamics," he added.

The UN official warned that demography is moving faster than politics.

"In a few years, exponential population growth in the West Bank and Gaza will make it increasingly difficult, if not impossible, to manage the economic, political, and security situation."

Moreover, he warned that the principles that underpin the Oslo Accords are "slipping away," noting that "political leadership is required to reset the trajectory toward a two-state solution."

"Failing to address the underlying causes of conflict, as well as the negative trends I just outlined, and without demonstrating a clear political path forward, the conflict will only escalate, causing more bloodshed and misery, and have a deeply destabilizing effect on the entire region."

Wennesland urged taking necessary steps towards a two-state solution, which still garners considerable support among Palestinians and Israelis.

"Through incremental but tangible steps, we can build a bridge between where we are now and the conditions necessary for a peaceful resolution of the conflict based on United Nations resolutions, international law, and previous agreements," he said.

He called on both sides to "stop unilateral steps that undermine peace, including settlement expansion or legalization, demolitions, and displacement.

Furthermore, Wennesland urged all parties and the international community to strengthen Palestinian institutions, improve governance, and shore up the fiscal health of the Palestinian Authority (PA).

However, he stressed that a "common approach" where the "two-state solution is the guiding political direction is essential to halting the current negative trajectory."

"Neither can turn away from the realities of geography and demography that are reshaping the landscape, which, combined with [fast] expanding settlements east of the 1967 lines, reflects an increase in friction points and a deepening conflict."